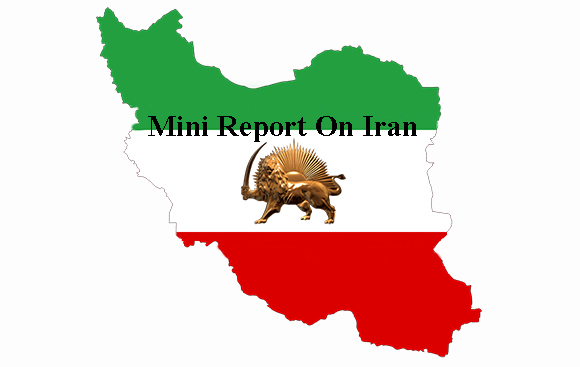 • ISFAHAN, Iran, April 9 , 2018: Protest gathering of farmers 
Farmers in Eastern Isfahan held protest gathering against non-payment of their 'Water Rights". Protesters were chanting: "The clergyman is a liar, even if I die, I get my Water-Right" and "No nation has ever witnessed this much injustice." (Video)
• TEHRAN, Iran. April 8, 2018: Protest gathering of creditors of 'Alborz' financial institution
On Sunday, April 8, 2018, a group of creditors looted by the state-run Alborz Financial Development Institute held a protest rally against the central organization of the rural cooperative of Iran on Valiasr Street in Tehran. The gathering was held under siege by security forces. Some of the slogans of protesters were "Eight months we ran, we just heard lies," "Death to the liar," a little less embezzlement, our problem is solved, "Our saving money is stolen and looted," " protests will continue till we get back our money !,
The looted creditors were chanting to the security forces who intended to disperse them. "Listen brother we are looted, not the thugs!" "Shame, shame on the security forces." (Video)
• 14 dead, including Iran regime's forces in an attack on a Syrian air base
The Syrian Human Rights watch reported, a missile strike on one of the Syrian airbases that took place on Monday morning, left 14 dead, among them Iranian regime's forces.
• Cotton on Syrian Chemical Attack: Iran and Assad Must All 'Pay for Their Barbarism'
Sen. Tom Cotton (R., Ark.) said Russia, Iran and the Bashar-al Assad regime in Syria must all "pay for their barbarism" Sunday after reports of a chemical weapons attack in a Damascus suburb.
The attack on rebel-held Douma reportedly left dozens dead, and it was almost exactly a year after a similar chemical attack by the Assad regime that led President Donald Trump to order a retaliatory missile strike to destroy a Syrian air base. Source: Free Beacon.
• Iran's rial hits new lows on Trump worries
Iran's currency fell at least 5.5 percent on Sunday, extending a slide to a new record low on continued concerns over a return of crippling sanctions if U.S. President Donald Trump carries out his threat to exit a nuclear deal with Tehran.
The U.S. dollar jumped 2,990 rials to 54,700 rials on the open market in the capital Tehran, the official news agency IRNA reported. Source: Reuters.
• Iranian Border Guards Kill Kurdish Man, Injure Another
ERBIL — a young Kurdish man from Kurdistan Region's Kalar district on Sunday was gunned down on the border between the Kurdistan Region and Iran.
A source from the victim's family told BasNews that Diyako Apo, 30, was shot dead by the Iranian forces while touring the mountainous areas near his village in Sulaymaniyah Province. Diyako's friend who was accompanying him has been injured. The victims were taken to Sarpol-Zahab on the Iranian side. Source: Bas News
• Salehi: We can resume the enrichment of 20% in four days
The head of the Atomic Energy Organization of Iran announced that if the Vienna agreement was to collapse, Iranian regime could resume its 20-percent enrichment on Fordow's site within four days. Ali Akbar Salehi, on Saturday, April 19, in an interview with the IRIB news agency, emphasized that this claim was no"exaggeration and slogan".