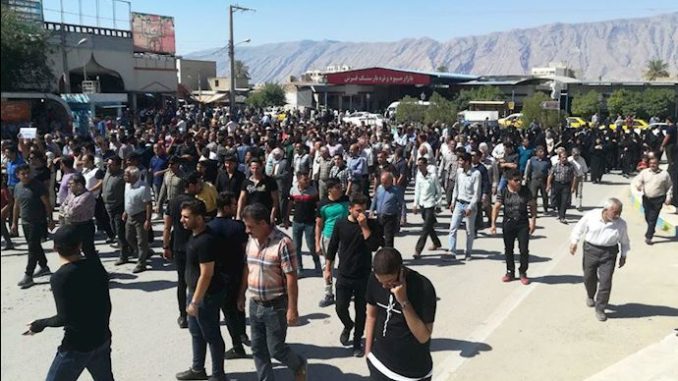 Thousands of people in Iranian city of Kazeroun (Fars Province) gathered once again in the city's Martyrs Square on Wednesday, May 16, 2018, to resume their protests against separation plan of the city, asking other people to join the rally and provide their support.
The representative of Kazeroun in the Iranian regime's parliament, Hajj Hossein Rezazadeh, sought to divide several neighbourhood of the city to create a new township. He presented the plan to the Administrative divisions of Iranian regime and it was approved.
According to Kazerun's division plan, two parts of the Chenarshezjan and Nodan are to be separated from the city of Kazerun. These regions with a population of around 45,000 people, will form a new township, despite the fact that, according to the law, they have to have at least 120,000 residents to be considered a township.
However, the people of Kazeroun protests against this project saying that the city of Kazeroun is identified by Shapur, Imam Zadeh Syed Hossien and the forests of the Barm valley, and this identity should not be lost in the divisions.
Last month, the public protests against the Kazeroun city division continued for several successive days. On April 18th, the government announced that the separation plan will be stoppedceased for reconsideration. However, the public protesters responded that they will still be alert and would not let the plan be implemented, and if it does, they would come back to the streets and stage major demonstrations and protests once again until the plan is stopped and rejected all together.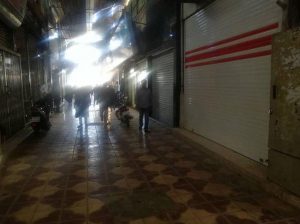 Given the presence and activities of government forces and agents to control the protesters slogans on Wednesday, the people of Kazeroun said they will not give up on their demand for the integrity of the city. During the large protest demonstration, the women and youth of this city chanted slogans against this plan.
According to reports, the Kazeroun market is also closed down as a form of strike.