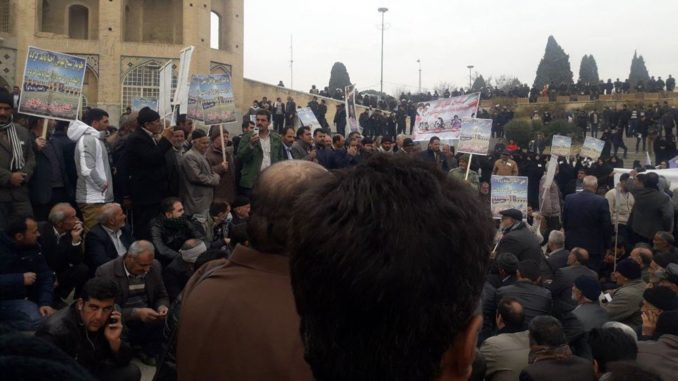 Iran: January 2, 2019 – A large demonstration of Isfahan farmers turned violent today after riot police attacked the peaceful protesters who staged gathering on Khaju Bridge and dried riverbed of Zayandeh Roud (River) and then marched in the central province's streets.
According to reports, around 2,000 farmers rallied this morning towards Khaju Bridge in Isfahan to protest the diversion of Isfahan's river to other provinces. The farmers demanded the opening of Zayanderud Roud (River) and the flow of water so that they can irrigate their lands and go on with their lives. A large number of women were among the protesters who came out "to get what is rightfully ours" one protester said.
This  is but an example of the Nationwide Strike and Protests by various strata of the society that have swept the country since December 2017 and  continued ever since. According to the Iranian Opposition (NCRI), the protests will not stop here and Iran will see more protests and isolation in 2019.
The protesters said: "We came to get our right. We do not want anything else. When this government gives us back what is rightfully ours, we'll go home."
The farmers have been protesting for the past few days. On Wednesday, they chanted anti regime slogans such as "You dishonorable" & "Down with dictator," according to a report providing reliable news and videos on the protest rally.
Videos on social media showed Isfahan farmers were also chanting, "Today is a day of mourning because farmers have no livelihood."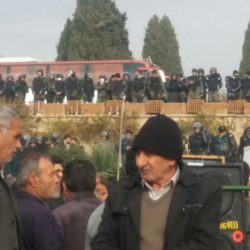 The farmers blame the government for water mismanagement and water scarcity that has destroyed their farmlands. They also chanted "shame on the deceitful government."
Riot police were dispatched to the area from the start of the gathering. Videos from the gathering showed a large number of riot police on the scene with scuffles between police and the farmers.
The farmers addressed the police and chanted, "Do not support the thieves". The protesters also booed the police and chanted "bisharaf (meaning dishonorable)". Reports also indicate that riot police shot bullets in the air to disperse the protesters.
Watch Video of the Protest Here
(Source: NCRI)