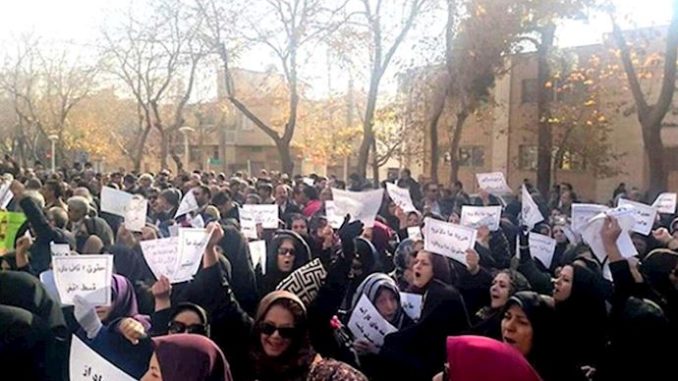 Concurrent with the ongoing nationwide strike and protests in Iran, the teachers and educators of Isfahan gathered in front of the city's Education Department on Thursday, December 27, despite Iranian regime's intelligence agents and security forces threatening them in various ways not to participate in the demonstrations, otherwise they would face consequences.
The Iranian regime has been trying to prevent the formation of this protest rally by deploying the police and intelligence forces in the streets around the Education Department in Isfahan.
As the teachers were protesting low wages, poor living conditions and skyrocketing prices of daily necessities, the regime authorities began firing tear gas, using pepper spray, and arresting a number of the teachers. They the apprehended and transferred a number of teachers to unknown locations.
The regime's suppressive agents attacked and tried to arrest a woman who was filming the events, but the people went to help her to escape.
The Iranian Resistance President-elect, Maryam Rajavi, hailed the courageous educators and teachers of Isfahan who despite all the repressive measures continued their protests, and called on the public in Isfahan, especially the youth, to support them and to protest their suppression and arrest. She also called on human rights defenders, trade unions and teachers and academics all over the world to support their protests and demands and to take urgent action to release the arrested.
Solidarity among teachers, students, workers, farmers and other strata of society is the nightmare of the ruling theocracy.#Iran#FreeIran#IranProtests

— Maryam Rajavi (@Maryam_Rajavi) December 27, 2018
Watch Some Video of the Demonstration Here