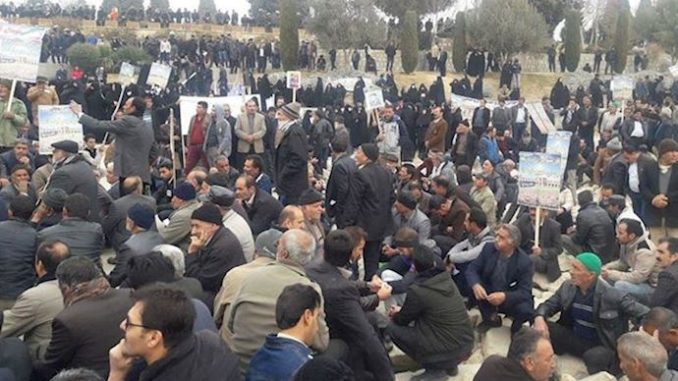 Reliable reports indicate that some 2,000 farmers of Khorasgan District rallied toward the famous Khaju Bridge in the city of Isfahan on Wednesday, January 2, to demand the opening of Zayanderud Roud (River) and the flow of water so that they can provide for their lands and go on with their lives. A large number of women also participated in the gathering "to get what is rightfully ours" one protester said.
The Isfahan farmers who have been protesting for the past few days, gathered on Khaju Bridge and dried riverbed of Zayandeh Roud on Wednesday and chanted anti regime slogans such as "You dishonorable" & "Down with dictator," according to a report providing reliable news and videos on the protest rally.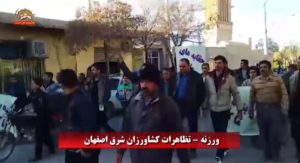 One protester said: "We came to get our right. We do not want anything else. When this government gives us back what is rightfully ours, we'll go home."
"Do not give us empty promises every day. Enough is enough. God is our witness. Return Zayandeh River's water back to us. We want neither a tunnel nor a dam. We do not want them anymore. Give us back the water of our wells. Give us the same water of the Zayandeh River. We do not want anything else. Period," he continued.
Mrs. Maryam Rajavi, President of the Iranian Opposition (NCRI) hailed the farmers of Isfahan and called on youth to support them. She said:
#Isfahan farmers' cries for their rights can be heard from Khajou Bridge despite repressive measures and the arrests of a number of them. I hail the protesting farmers and call on all youths to support them. #IranProtests #Iran

— Maryam Rajavi (@Maryam_Rajavi) January 2, 2019
On Tuesday, the farmers held simultaneous rallies in the towns of Varzaneh (Watch Video) and Khorasgan in Isfahan Province, chanting against the Iranian regime's theft and plundering. On Monday, Varzaneh farmers took to the streets, protesting water shortages and the regime's corruption in managing water sources.
"We will fight, we will die, and we will take back our rights," the farmers chanted. They were also shouting, "Hail to farmers, death to tyrants," referring to regime officials who have contributed to province's water problems.
Agriculture is one of the main occupations of Isfahan's inhabitants. In recent years, the Iranian regime has engaged in a number of construction and production projects – many related to the Revolutionary Guards (IRGC) – disrupting the water sources used by Isfahan farmers to irrigate their fields.
One of the main points of argument is the Zayandeh Roud River, being one of the farmers' principal water sources. The regime has constructed dams, water pipelines, and channels diverting Isfahan's waters to other locations, resulting in considerable damage to farming activities.
In the past year, the farmers have held demonstrations on several accounts and for extended periods, protesting the regime's lack of response to their needs and problems. Iranian regime President Hassan Rouhani has pledged to solve the farmers' problems in Isfahan and other provinces. However, he has yet to fulfill his (empty) promises.
On Monday, the protesting farmers were seen chanting, "Rouhani you liar, what happened to our Zayanderud?" On Sunday, the farmers, fed up with the regime's incompetence, chanted loudly, "If you don't restore our rights to water, we're ready for martyrdom."
The farmers also called on other Iranians to join them and support their cause. "Noble compatriots, support us," the farmers were chanting.