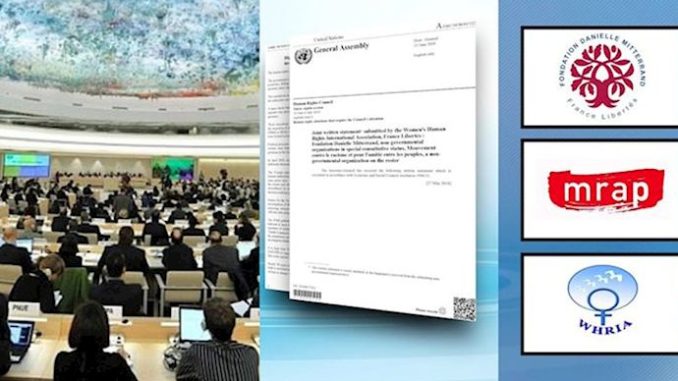 On the eve of the 30th anniversary of the 1988 massacre of over 30,000 political prisoners in Iran that occurred following the criminal fatwa (religious decree) by the Iranian regime founder Ruhollah Khomeini, three UN advisory organizations issued a statement during the 38th annual session of the United Nations Human Rights Council in Geneva to officially recognize the massacre as crime against humanity and launch an international probe to place those responsible before justice.
France Liberte, the Movement Against Racism and For Friendship Among Nations (MRAP), and the International Women's Human Rights Association issued their letter to UN High Commissioner for Human Rights, Zeid Raad Al Hussein.
"The human rights situation in Iran continues to deteriorate. The Iranian regime responded to May's peaceful demonstration of Kazerun in the south by opening fire, leaving at least four dead and many others injured.
"The crackdown in Kazerun followed the use of similar inhumane methods to target January's peaceful demonstrations when the regime authorities arrested thousands and dozens, including many under torture, were murdered in prison.
"One of the reasons behind the Iranian regime's appalling elimination of dissidents is the immunity they have enjoyed despite their inhumane crimes, the most important of which being the massacre of 30,000 political prisoners in 1988."
Most of the 1988 massacre victims were members and supporters of the Iranian opposition, the People's Mojahedin Organization of Iran (PMOI/MEK).
The statement continues: "The perpetrators of this crime enjoy immunity as we speak and many of them are in key positions in the judiciary or the government. The current Iranian Justice Minister is among them."
The statement also refers to the human rights organizations reports on the Iranian regime's measures aimed at destroying mass graves sites associated with the 1988 massacre victims in order to cover up this heinous crime.
"This tactic is destroying key evidence that can be used to discover the truth about the scope of the committed crimes, and seek justice and compensation for the victims and their families.
"These sites are under tight security surveillance and this shows judiciary, intelligence, and security entities were involved in the decision-making process of destroying these graves.
"Through the course of 2017 the Justice for the Victims of 1988 Massacre in Iran (JVMI) conducted a separate and extensive probe into this massacre by interviewing the victims' relatives and eyewitnesses, and analyzing witness reports, images, confessions and remarks of current and former Iranian regime officials who had a role in this mass killing.
"This association has issued two separate reports in 2017 publishing details of 59 mass graves in Iran where it is believed 1988 massacre victims were secretly buried."
France Liberte, MRAP, and the International Women's Human Rights Association emphasized in their joint statement: "Now is the time for the UN High Commissioner on Human Rights to launch an international investigation into the 1988 massacre and justice to be served for the victims of this crime against humanity."