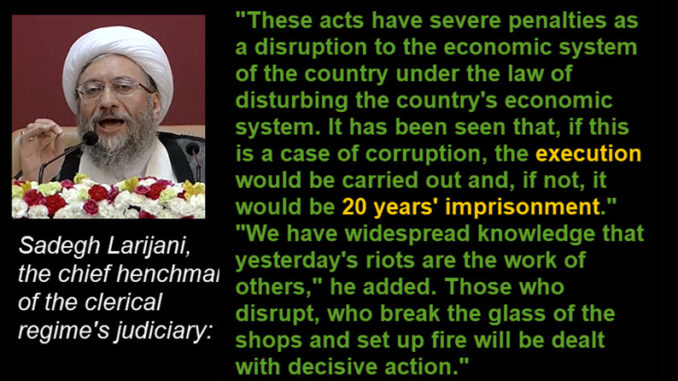 On the third day of the strikes in Bazaar and popular protests in Tehran and other cities, Sadegh Larijani, the head of the Iranian regime's judiciary, fearing further protests and people's uprising, threatened the protesters with execution and severe penalties while referring to them as perpetrators of "riots" in Tehran and "disrupters of the economic system".
"These acts have severe penalties as a disruption to the country's economic system under the law. If this is a case of corruption, the execution would be carried out and, if not, there would be 20 years' imprisonment," henchman Larijani said on Tuesday, June 26, and continued, "We have widespread knowledge that yesterday's riots are the work of others. Those who disrupt, who break the glass of the shops and set up fire will be dealt with decisive action."
Regarding Larijani's statements on the death sentence and severe action against the protesters, Mrs. Maryam Rajavi, President-elect of the NCRI, urged the United Nations Human Rights Council and other International Human Rights Organizations for immediate action to release the detainees and strongly condemn the threats of the head of the clerical regime's judiciary.
She said these statements also reflect the inhumane nature of Larijani and his Supreme Leader, Ali Khamenei, regarding the Iranian people's peaceful protests and uprising. She emphasized that Larijani's statements are in flagrant violation of the Universal Declaration of Human Rights and many other international conventions ِincluding the Convention on Civil and Political Rights. She said the United Nations Security Council should act promptly in this regard.