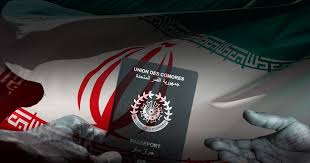 A REUTERS SPECIAL REPORT, June 29, 2018:
In recent years, numerous Iranians have bought passports from the Comoros Islands, a small nation between Mozambique and Madagascar. U.S. and Comoros officials worry the documents may have been used to skirt sanctions.
LONDON/NAIROBI – In January, the Comoros Islands quietly cancelled a batch of its passports that foreigners had bought in recent years. The tiny nation off the east coast of Africa published no details of its reasons, saying only that the documents had been improperly issued.
But a confidential list of the passport recipients, reviewed by Reuters, indicates the move meant more than the government let on. Reuters found that more than 100 of 155 people who had their Comoros passports cancelled in January were Iranians. They included senior executives of companies working in shipping, oil and gas, and foreign currency and precious metals – all sectors that have been targeted by international sanctions on Iran. Some had bought more than one Comoros passport.
Diplomats and security sources in the Comoros and the West are concerned that some Iranians acquired the passports to protect their interests as sanctions crimped Iran's ability to conduct international business. While none of the people or companies involved faced sanctions, the restrictions on Iran could still make a second passport helpful. Comoros passports offer visa-free travel in parts of the Middle and Far East and could be used by Iranians to open accounts in foreign banks and register companies abroad.
The Iranian government does not formally allow the country's citizens to hold a second passport. However, an Iranian source familiar with the buying of foreign passports said Iran's Ministry of Intelligence had given the green light for some senior business figures to acquire them to facilitate travel and business transactions.
The Iranian government and its embassy in London did not respond to requests for comment.
Houmed Msaidie, a former Comoros interior minister who was in office when some of the passports were issued, said he suspected some Iranians were "trying to use Comoros to get around sanctions." He said he had pushed for further checks before passports were granted to foreigners, but did not elaborate.
The U.S. Treasury declined to comment, saying it did not discuss current investigations.
Kenneth Katzman, a Middle East expert at the U.S. Congressional Research Service, said that Comoros was one of a number of African nations where Iran has tried to exert trade and diplomatic influence. "Having a Comoros passport would allow them to do things without being flagged as Iranians," he told Reuters.
In all, more than 1,000 people whose place of birth was listed as in Iran bought Comoros passports between 2008 and 2017, according to details of a database of Comoros passports reviewed by Reuters. The majority were bought between 2011 and 2013, when the international sanctions were tightened, particularly on Iran's oil and banking sectors.
Other foreigners who bought Comoros passports include Syrians, Afghans, Iraqis, Chinese, and a handful of Westerners.
International sanctions against Iran were eased following a deal struck in 2015 aimed at preventing Iran developing nuclear weapons. In May, U.S. President Donald Trump pulled the United States out of the agreement, saying it was "defective" and a "horrible, one-sided deal." Since then, the U.S. Treasury has imposed fresh sanctions against people it links to Iran's Revolutionary Guards, the nation's missile programme, some Iranian airlines and money transfer services. Further U.S. sanctions will take effect in August and November.