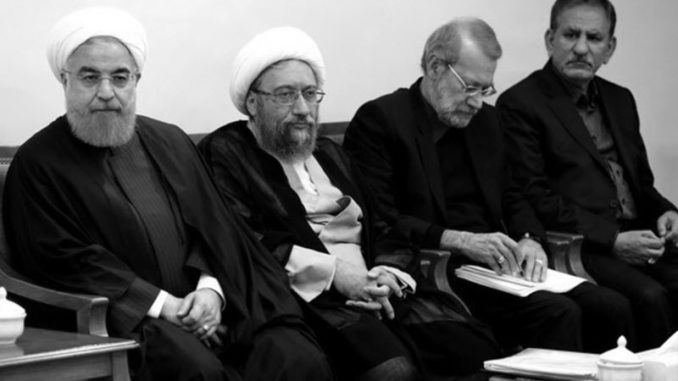 A current conservative populist politician named Ahmad Tavakoli believes "the corruption (that has created fundamental economic issues) in Iran is systematic in nature," and as put by Es'hagh Jahangiri (first vice-president of Hassan Rouhani's government) "is deeply rooted".
In a talk with ISNA (August 15, 2018), an economist named Vahid Shaghaghi explains: "The lack of transparency has unfortunately led to rent-seeking, distrust, and ultimately corruption". He added that certain minorities linked to the government, which he refers to as the "rich groups," don't pay any taxes whilst "all other ordinary people with regular incomes, do."
Shaghaghi also believes that in order to eliminate such corrupt relations and to subsequently improve the economy, many people "must come off the train of revolution," by which he means that many current officials must be replaced with non-corrupt ones. However, he also admits to the challenges that will come with such attempts, especially considering the deep roots of these corruptions: "Rent-seeking people will make sure to stop any transparencies or improvements."
Another economist named Hossein Raghfar, also acknowledges that "We are witnessing many corrupt relations being formed within the government's three branches, as well as the parliament and affiliating half-public sectors; these include various kinds of illegal speculations, brokerages, rent-seeking, and power plays; all of which are destructive not just for our economy but for society as well. This is reflected in the observed rates of poverty, drug addictions, suicides, and so forth," ILNA news agency, August 17, 2018.
By saying "half-public sectors," Raghfar is referring to certain economic institutes that were at some point, especially at the time of Ahmadinejad's presidency, under the full control of the government affiliated organisations such as the Revolutionary Guards.
Raghfar had also previously stated: "Over the past 40 years, some 400-500 individuals, who are all well known to the public, have been making the main decisions for our country. Therefore, they're the ones responsible for the ongoing economic crimes; however, none have ever been dismissed from their positions. We can clearly see a pattern here where instead of taking any responsibility, or apologizing and resigning, corrupt officials only continue delaying their transparency with the public!" (ILNA, June 29, 2018).
As also believed by government's own economists, the non-transparency of such corrupt authorities is the reason why they don't come forward and do absolutely nothing to eliminate or reduce the consequences.
What shouldn't be ignored is the faulty structure of Iran's political system, which is the cause of all these corruptions in the first place. A theorist from the regime itself, acknowledges that: "The corruption taking place within our government should be our main target of combat, and any religious affiliations within our system must also be rid of immediately," Tasnim news agency, August 16, 2018.
However, as we all know, it's nearly impossible to fight such severe issues in a government run by corrupt Mullahs; as a Persian proverb says, "a fish rots from the head down" which means that the source of corruption is at its very core; which in this case means that the only way to solve Iran's economic issues is to eliminate its entire political structure and replace its government with a democratic one.
Mohammad Sadat Khansari is a researcher analyst and consultant, specializing in Human Rights and political and social affairs. He has expertise on Iran and the Middles East affairs.