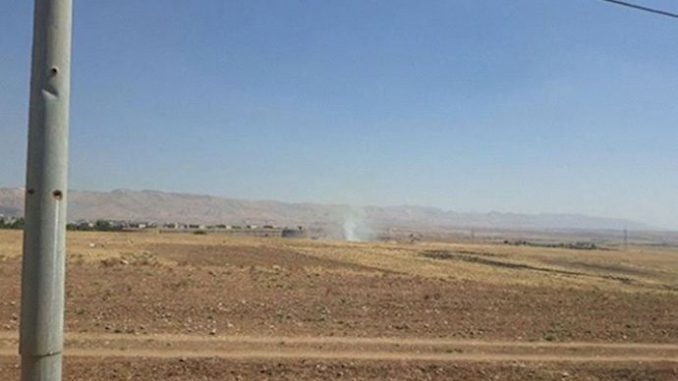 A wave of hatred and abhorrence rise among Iranians against the execution of three Kurdish political prisoners and recent missile attacks by the Iranian regime's Revolutionary Guards (IRGC) against Kurdistan democratic parties based in Iraq. Many Iranians are writing letters to the United Nations Secretary-General Antonio Guterres demanding an investigation by the Security Council into these crimes.
Stores owners in the city of Marivan wrote a letter calling on UNSG Antonio Guterres condemning the criminal execution of three Kurdish prisoners who opposed the fascist regime ruling Iran, and also the missile attack launched on Iraq-based Kurdish groups opposing the Iranian regime as a war crime. They called on the UN Secretary-General to take action in this regard and refer to the Iranian regime's human rights dossier to the UN Security Council, and issue a statement condemning this atrocious measures.
A group of youths and store owners in Arak, western Iran, wrote in their letter to the UN Secretary-General that the Iranian regime hanged three young Iranian Kurds (Ramin Hossein Panahi, Loghman and Zaniar Moradi), bringing grief to their old mothers. Tehran also viciously attacked the Kurdistan Democratic Party base in Iraq, leaving more than 15 people dead and more than 40 others injured. The signatories of this letter called on the UN chief to condemn the ongoing crimes against humanity in the respected Security Council and take measures to prevent such events in the future.
A group of supporters of the Iranian Opposition, the People's Mojahedin Organization of Iran (PMOI/MEK), in Isfahan, central Iran, sent a letter to UN Secretary-General saying that the IRGC in a statement claimed responsibility for this treasonous measures and published footage of the missile barrage in a sign of their saber rattling. This is a document in itself of the Iranian regime violating Iraqi sovereignty.
In the past, the inhumane mullahs' regime had taken similar measures against the PMOI/MEK. The signatories of this letter called on the UN Security Council to see into this crime by holding a session and taking the necessary action to confront such measures by the mullahs' dictatorship.
U.S. Vice President Mike Pence condemned the Iranian regime's missile barrage and wrote in twitter: "Spoke with Prime Minister @PMBarzani of Iraq's Kurdistan Regional Government earlier today & condemned Iran's recent rocket attacks into the Kurdistan region as an effort to threaten and destabilize its closest neighbor."
(Source: PMOI/MEK)