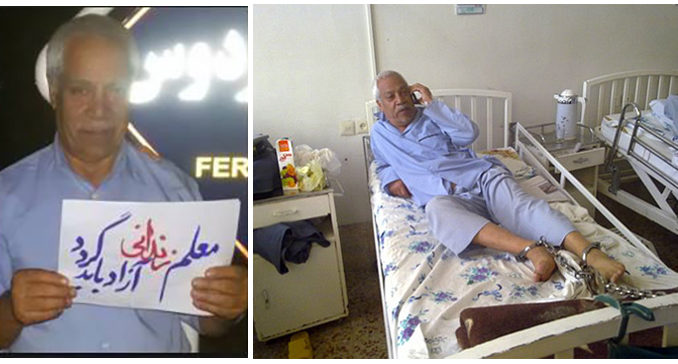 Following abduction of the teachers' union activist, Hashem Khastar, in the city of Mashhad (northeast Iran) by the Revolutionary Guards (IRGC) intelligence and exposure of the abduction, he was transferred and confined in a psychiatric hospital where his wife and child were finally permitted to visit him.
"On Thursday, I went to the courthouse for permission to visit my husband, Mr. Seyed Hashem Khastar, in Mashhad's Ebn Seena Hospital. There was no file or records about his arrest. I spoke to the deputy public prosecutor about my husband's arrest and he said they had not issued any orders for his arrest. I then spoke with another deputy public prosecutor and he said we had not given any orders (to arrest him) either. I received the same answer from the Intelligence Ministry, the IRGC intelligence and the police," Mrs. Sediqeh Maleki-Fard said.
"The Social Emergency unit arrested him outside his orchard and took him straight to the Ebn Seena Hospital. They took blood from him and gave him an injection… Considering the fact that my husband's life is in danger in this psychiatric hospital, he must be released immediately," she continued.
"He was completely healthy and after retiring spent many of his days farming. The only medication he consumed were blood pressure pills. Khastar being hospitalized in an emergency section of a special facility for psychiatric patients means [the authorities] injected a special type of medication with the intention of killing him, or he had been severely injured under torture or during his arrest," Mrs. Maleki added.
Mrs. Maleki-fard issued a call to her compatriots asking them to raise the issue of her husband's arrest with the Iranian regime's judiciary and demand his release.
The National Council of Resistance of Iran (NCRI) has been calling on all international human rights organizations to see into this matter and urge the Iranian regime to release Mr. Khastar. His transfer to a psychiatric hospital after the revelation of his abduction is nothing but the regime's effort to cover up their crime.
The NCRI's Education Commission is also calling on the international community, the United Nations Secretary-General, the UN Security Council, the UN Human Rights Council and the Special Rapporteur for Human Rights in Iran to take urgent action to protect Mr. Khastar's life and guarantee his well-being.
Read More On This Issue Here