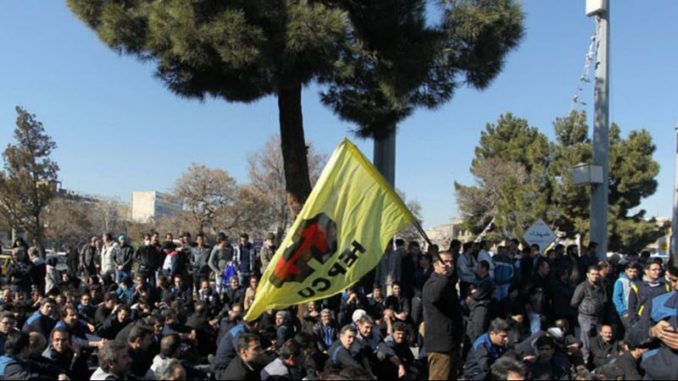 According to reports, the Iranian regime's judiciary in the city of Arak issued a five-year suspended sentence for 15 Hepco workers for participating in protest rally in June 2017 condemning them to 74 lashes and one to two years imprisonment.
The judiciary issued the sentence in order to intimidate the Hepco workers who have been protesting against deteriorating working conditions including non-payment of their salary and benefits for months and the authorities failure to implement their deceptive promises. The trumped up charges laid against the protesting workers include "disrupting public order" and "propaganda against the system".
While more than 90% of Iranian workers live below the poverty line and their livelihood is getting worse every day, the clerical regime responds to the protesting workers with flogging and imprisonment.
According to an admission by the state-run Tasnim News Agency affiliated to IRGC, the workers' representative at the Supreme Council of Labor said: "83% of workers live below the death line… rising housing prices and rent, rising prices of currency (dollar), coins, gold, poultry, bananas, meat, rice, oil, and… is indicative of the fact that the households' table, especially the laborers, shrinks every day in 2018, and in the second half of the current year people would have to shed tears (as they are unable) to pay for their expenses."
In a Statement on Sunday, the Iranian Resistance Parliament in exile, the National Council of Resistance of Iran (NCRI), called on the general public, especially the workers and youth of Arak, to express solidarity and support the protesting workers and strongly condemns these suppressive, anti-human and anti-labor punishments. The mullahs' judiciary therefore wants to tell workers to accept working like slaves without pay and if they don't abide in the next five years, they will be subject to such punishments.
The NCRI saluted the brave workers of Hepco and urged the International Labor Organization (ILO), the international labor unions and international human rights organizations to support the  Iranian workers' legitimate rights and to take urgent action to prevent the clerical regime's increasing crimes against Iranian workers and to abolish slavery era punishments.