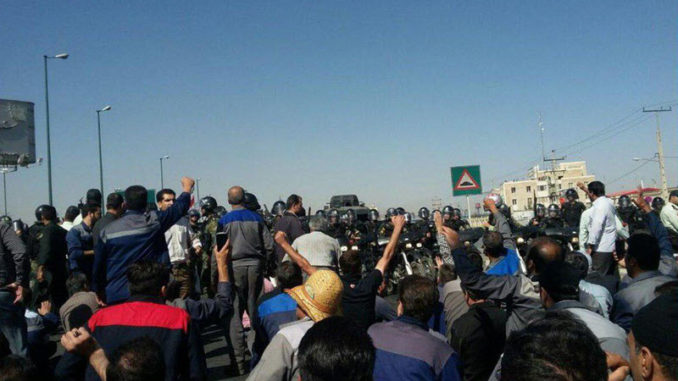 Iran: 15 Protesters Sentenced to Flogging and Prison
The Iranian Regime has sentenced 15 workers at the Heavy Equipment Production Company (HEPCO) to prison and flogging for taking part in peaceful protests to demand their unpaid wages and learn the fate of the company in May.
Each HEPCO worker was sentenced to one to two years in prison and 74 lashes by the 106th Branch of the Arak Penal Court for "disrupting public order" and "instigating workers via the internet to demonstrate and riot", according to the state-run ILNA News Agency.
The 15 workers have been identified by human rights groups as Majid Latifi, Behrouz Hasanvand, Hamidreza Ahmadi, Amir Houshang Pour Farzanegan, Morteza Azizi, Hadi Fazeli, Abolfazl Karimi, Farid Kodani, Majid Yahyaie, Amir Fatahpour, Yaser Gholi, Amir Farid Afshar, Mehdi Abedi, Ali Maleki, and Berouz Valashajardi.
Labour rights activists say that the plight of workers began after HEPCO, a company that makes road construction equipment, was privatized last year.
Iran's Free Trade Union reported via Telegram: "8,000 workers used to work at the HEPCO industrial complex before its privatization. Now, only 1,000 of them are left."
Labour rights in Iran
Workers in Iran who choose to hold protests and strikes, for whatever reason, are in severe danger of persecution, as Iran's Labour Code doesn't grant citizens the right to form independent unions, even though Iran has ratified the UN's International Convention on Civil and Political Rights and is a member of the International Labor Organization.
Amnesty International reports: "Independent unions in Iran are banned, workers have few legal rights or protections, and union activists are regularly beaten, arrested, jailed and tortured."
Earlier this month, a court in Qazvin Province called for 17 striking truck drivers to face the death penalty, something strongly condemned by five major labour unions, including the International Transport Federation (ITF). The ITF wrote a letter to Iran's Supreme Leader Ali Khamenei to advise that they were "shocked" at the prospect of execution for the truckers.
The Iranian truckers' strike over low pay and the high costs lasted more than 20 days. Over 250 truck drivers were detained and government officials threatened all of them with the death penalty.
Other recent strikes in Iran, include about 6,500 railway workers, who launched their third round of protests on Saturday to demand three months' worth of delayed wages.
They released a statement that read: "We have not received our demands and pensions at a time when we are facing an increase in prices of ordinary goods on a daily basis and we literally lack the ability to provide for our basic needs."