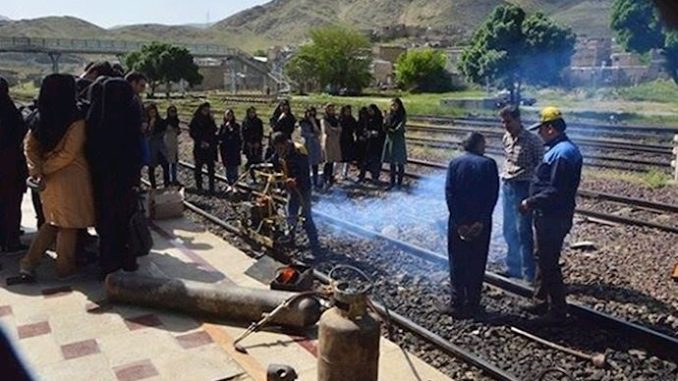 Iran's society is now witnessing yet another group of workers launching strike. On Saturday, a number of official outlets and social media networks indicated several groups of railways workers going on strike that has continued to this day. The state-run ILNA news agency, along with other outlets, were also posting reports in this regard. These rail workers are responsible for keeping the country's rail network up and running 24 hours a day, seven days a week.
As this strike successfully began, it is the latest series of strikes in the third round of protests launched by Iran's rail workers in the past six months. It is worth noting that the rail workers also launched a number of local strikes in between the periods when the entire country was experiencing strikes.
The protesting rail workers are demanding payment of wage arrears and delayed paychecks, in some cases postponed for three to four months. Cities across numerous provinces, including Khorasan, Azerbaijan, Lorestan, Isfahan, Zanjan, Eslamshahr, Karaj, Shahroud, Semnan, Damghan, Gorgan, Varamin, Arak, Urmia (Orumiyeh), Andimeshk, Zahedan and the town of Diezel near Tehran were home to such protests.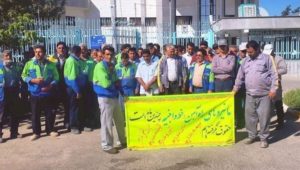 On September 29, rail workers in Shahroud staged a protest demanding their delayed paychecks. On October 6, rail workers in Khorasan Province went on strike once again, marching towards the mayor's and governor's office while protesting their delayed paychecks.
Officials have repeatedly promised that they would address and meet workers' demands. This has become nothing but hollow promises. These workers have not received their wages for the past few months or any pensions during the past six years as well. Only 22 rail workers in Tabriz have been able to receive their pensions.
All the while, as inflation is skyrocketing and necessities are becoming more expensive with each passing day, the workers are being deprived of even their very low incomes.
These workers, numbering at around 6,500, are saying they are very steadfast and serious on this new round of protests. This is yet another example of people from all walks of life protesting in cities across Iran.
Read More On This Issue Here