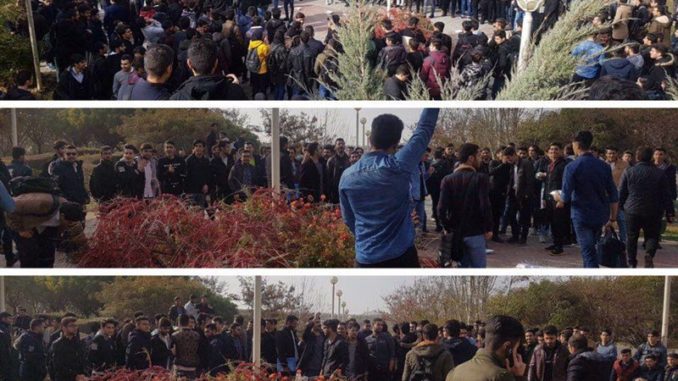 On Tuesday, a large numbers of university students in Iran held protest rallies in solidarity with striking workers, as well as jailed students and teachers.
At Tehran's Amirkabir University of Technology, also known as Polytechnic University, students formed a long human chain, whilst holding signs and chanting slogans. Some of the most memorable, include "Cannons, tanks, guns, they are no longer effective", "Workers, students, unite, unite", "Jailed workers, students, and teachers must be released", and "Victory is near. Down with this deceptive government".
They are demanding the release of jailed teachers including Mohammad Habibi, who was sentenced to seven years in prison for his educational activism but has remained behind bars despite his sentence being completed.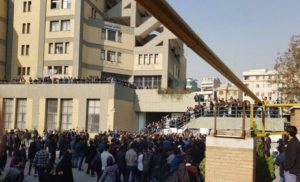 The workers currently behind bars whom the students are demanding the release of include Esmail Bakhshi and Ali Nejati, workers' rights activists of the Haft Tappeh Sugarcane Factory, who have been detained during the latest round of strikes. Both are believed to have been tortured and beaten, while Bakhshi is believed to be in the hospital.
The Iranian Regime, terrified of yet more popular protests and fearful that the nation's young people will lead the anti-regime revolution, sent in their repressive and plainclothes agents to crack down on the protesters. In videos circulating on social media, students continued regardless, holding their lines and refusing to let the Regie's Basij agents encircle or silence them, despite reports that one protester was injured as a result of a scuffle with the agents at the scene.
Students of Nowshirvani University in Babol, northern Iran, protested the regime's repressive measures at their campus, government incompetence, and people's poor living conditions, which are the result of the mullahs corruption and mismanagement.
They held signs that called out the Regime, including "Universities are alive", "Stop the crackdown against students" and "Students will not live in shame".
While students of Sahand Industrial College in Tabriz, northwest Iran, also held a protest rally.
The students of Ahvaz, southwest Iran, actually went out and joined the protests of the striking National Steel Group employees, who are demanding their delayed paychecks, protesting corrupt policies, and calling for the release of imprisoned workers.
They chanted: "We won't submit to oppression."
The students, workers, and all other protesters in Iran have made clear that these protests will continue until they see Regime change in Iran.
These protests came just ahead of Iran's Student Day (December 7), which marks the anniversary of the 1953 murder of three Tehran University students by the Shah's police.