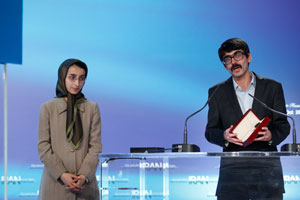 English translation of a letter to Mr. Martin Schulz, President of the European Parliament, by a group of Iran's political prisoners:
Hon. Martin Schulz, President of the European Parliament,
As political prisoners in Iran's prisons, we urge you not to victimize human rights of the political prisoners and those executed for trade and economic deals. Your relations with Iran without taking into account and condemning the grave human rights violations in Iran would make the sword of the regime's executioners sharper over our head and would encourage the mullahs to increase the daily executions of the youth in this country.
As political prisoners, we wouldn't welcome you shaking hands with the dictatorship ruling our homeland. However, if this is your decision to come to Iran, would you be kind enough to come to the prisons and torture chambers of this regime and visit us too so that we could inform you of the latest appalling situation of human rights violations in this land? We call on you to condemn the blatant human rights violations and arbitrary executions in Iran in your press conferences.
With our sincere regards,
Names of the political prisoners in Persian alphabetical order:
Farid Azmoudeh
Reza Akbari-Monfared
Iraj Hatami
Mashallah Haeri
Khaled Hardani
Rasoul Hardani
Shahin Zoghi-Tabar
Saeed Shirzad
Alireza Faravani
Asghar Ghatan
Hossein Kazemein-Boroujerdi
Saleh Kohandel
Saeed Masouri
Ali Mashadi-Kazem
Ali Moezi
Mohammad-Ali Mansouri
Misagh Yazdan-Nejad
Masoud Arab-Choobdar
10 October 2015
This letter has been smuggled out of the prisons and the original letter has already been emailed to Mr. Schulz in Persian by a relative of a political prisoner.