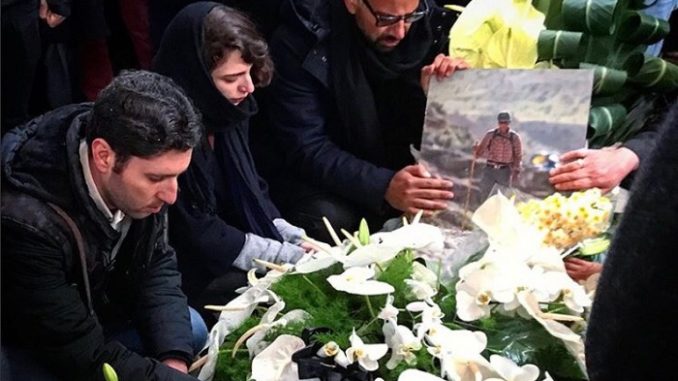 Following the recent protests and anti-government demonstrations in Iran, dozens of Iranians were killed while in custody. The Iranian regime has denied that its suppressive forces have caused any deaths, preferring instead to release very few details and make claims that the detainees committed suicide.
Families of those who have died under custody have spoken out about the suspicious circumstances surrounding the death of their loved ones. To add to their troubles, the Iranian authorities are harassing the families not to speak out. International human rights organisations including Amnesty International have called on the regime to end its cruel campaign of harassment, but it has made no difference.
Last month, Iranian-Canadian Kavous Seyed-Emami, 63, died while in custody. He was the managing director of the Persian Heritage Wildlife Foundation and a professor of sociology at Imam Sadeq University in Tehran. He was arrested and imprisoned after the protests in Iran at the end of January.
His wife, Maryam Mombeini, was summoned to Evin prison by authorities while she was unaware about the fate or whereabouts of her husband for weeks. She was then subjected to a cruel interrogation about her husband's environmental work and the intelligence agents tried to make her sign a false confession about her husband being involved in espionage.
It was after this harsh interrogation that Maryam was told her husband had committed suicide in prison. However, his family, including his sons Ramin and Mehran Seyed-Emami, maintain Kavous was killed by the prison guards. They warned Maryam that she must not speak to the media and that if she does, she will be putting her family in danger.
Last week, Maryam tried to leave the country but she was stopped at the airport and was banned from leaving Iran. Her sons want to get her back to Vancouver as quickly as possible and they are calling on the Canadian government to take urgent action.
Like many other families of victims, the Seyed-Emami family has been subjected to an intimidation campaign. Their home has been raided and they were constantly watched. They have received death threats and have witnessed the authorities carrying out a smear campaign on their father.
Although Ramin and Mehran have received hundreds of threatening messages and warnings not to speak out about their father, they believe it is the only way for justice to be served. The brothers have called on the Canadian government to investigate the circumstances surrounding their father's arrest and subsequent death.
The family has still not been told why Kavous was arrested and they maintain that there is absolutely no evidence that Kavous was a spy. They said that their father dedicated his life to environmental issues and uniting people.
Speaking about how the Iranian authorities have tried to silence them, the brothers say that they believe they are safer if they speak out.
After the recent wave of protests at the beginning of the year, thousands of people were arrested and scores of people died as a result. It is not uncommon for the political prisoners to be very badly mistreated, with many people being tortured. It is certain that many of the recent deaths of prisoners while in custody were due to torture and denial of urgent medical care.
The families of the victims want justice and the truth and are calling on authorities to set up an independent commission of inquiry. They also want the UN Special Rapporteur on torture and other cruel, inhuman or degrading treatment or punishment and Special Rapporteur on extrajudicial, summary or arbitrary executions to pay a visit to the country.
It is the responsibility of the various international authorities to review the evidence and prosecute those responsible for perpetrating such crimes.