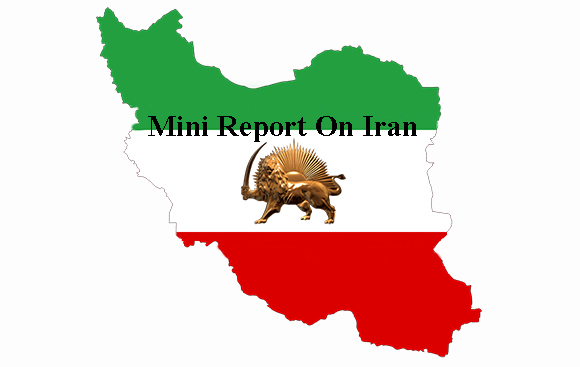 • Iranian drone was shot down in Israel 
Israel has said the Iranian drone it shot down in February was loaded with explosives and "tasked to attack".
The drone was launched from an airbase in Syria, against which Israel later carried out air strikes.
• Iranian Supreme Court Upholds "Unjust" Death Sentence against Kurdish Activist
The Supreme Court of Iran failed to fully consider the defense' arguments before it upheld the death sentence against Iranian Kurdish political rights activist Ramin Hossein Panahi, his lawyer Hossein Ahmadiniaz told the Center for Human Rights in Iran.
"The preliminary court determined that he was a combatant and issued a death sentence even though it was proven in court that he was not armed and did not open fire on anyone and now the sentence has been quickly confirmed on appeal without paying attention to the defense arguments," Ahmadiniaz told.
• Donald Tusk President of the Council of Europe: We are with our allies
Strikes by US, France and UK make it clear that Syrian regime together with Russia & Iran cannot continue this human tragedy, at least not without cost. The EU will stand with our allies on the side of justice.
• Hezbollah says Israel's Syria strike puts it into fight with Iran
The leader of Lebanon's Hezbollah group said on Friday that Israel's targeting of a Syrian air base on Sunday that killed some Iranian Revolutionary Guards forces was a "historic mistake".
"They (the Israelis) have committed a great folly and have put themselves into a direct fight with Iran," said Sayyed Hassan Nasrallah in a televised speech.
• Saudi Arabia demands UN to hold Iran responsible for Houthi missile attacks
Saudi Arabia on Friday submitted a request to the UN Security Council demanding to hold Iran responsible for the Houthi missile attacks on its territory.
The statement said gaps in the inspection system in Yemen have enabled Iran to supply the Houthi militia with the missiles.
• Saudi Air Defenses Intercept the Iranian-backed Houthi Missile
The Arab Coalition to restore legitimacy in Yemen announced on Friday that Saudi air defenses shot down a ballistic missile fired towards the Kingdom by the Iranian-backed Houthi militias in Yemen.
Coalition spokesman Colonel Turki al-Malki said that the air defenses detected the missile at 7:05 pm on Friday and that it was fired towards Jizan from the Saada province.
• Iranian Drone Shot down in Feb. was Armed
Israel said on Friday that the Iranian drone that was shot down after infiltrating its airspace was armed with explosives.
The military added that the aircraft was on a mission to attack Israel.
Following an "operational and intelligence-based investigation" the military concludes that the "Iranian aircraft was armed with explosives and was tasked to attack Israeli territory," the army stated.
• The Whereabouts Of Scores Of Iranian-Arab Detainees Unknown
More than two weeks after widespread protests began in Iran's oil-rich southwestern Khuzestan province; the exact number of people detained during the unrest is still unknown.
While no official figures on the number of people detained have been released, at least dozens have been arrested and their whereabouts is unknown. One unverified estimate puts the number as high as 400. Source: Radio Farda
• EU voices "great concern" over Iran's regional role
BRUSSELS, April 13 (KUNA) — The European Union (EU) has "great concerns" over Iran's role in increasing tensions in the region, including in Syria and Yemen, a senior EU official said Friday.
The official, speaking on condition of anonymity, also voiced concern over Iran's ballistic missile programme.
• Iranian Interference Takes Center Stage at Arab Ministers Meeting
Iranian meddling in the affairs of Arab countries took on Thursday the center stage at the meetings of Arab foreign ministers aimed at preparing the draft agenda and draft resolutions of the 29th Arab League summit to be held in Dhahran on Sunday.
During the meetings, ministers of the League's 22 member states said Iran and terrorism are two sides of the same coin, adding that Arab states should work together to stop Iran from meddling in their affairs.
• Mike Pompeo hearing: Key takeaways on Russia, North Korea, Iran
If confirmed, Mike Pompeo will serve as the next secretary of State for the United States as dangerous crises loom with Russia, North Korea and Iran.
"Congress must act to change Iranian behavior, and, ultimately, the Iranian regime," Pompeo wrote in an op-ed for Fox News in July 2016.
• Iran Responsible For Over Half of Executions World Over, Says Amnesty International
In a report released on April 12, London-based international human rights watchdog Amnesty International said "more than half (51%) of all recorded executions in 2017 were carried out in Iran."
Iran ranks second in the world after China in terms of executions and has "carried out 84% of the global total number of executions with Saudi Arabia, Iraq and Pakistan."
• Iran, terrorism inseparable: Al Jubeir
Manama: Saudi Arabia's Foreign Minister Adel Al Jubeir said that his country would not tolerate terrorism and Iranian interference in the region.
Addressing the meeting of the Arab foreign ministers in Riyadh, Al Jubeir said there can be no peace or stability as long as Iran interferes in the internal affairs of Arab nations by igniting sectarian strife, planting terrorist militias and hosting Al Qaida leaders.
• Iran's currency crisis could bring it one step closer to economic collapse
Iran's currency, the rial, has plummeted to an historic low amid growing economic and political uncertainty, causing a rush to the banks as Iranians desperately try to acquire U.S. dollars with exchanges forced to shut their doors to prevent long and chaotic lines. If unchecked, the crisis, combined with further deteriorating relations with the U.S., could spell severe instability for the Islamic republic.
• Iran official: Tel Aviv 'will be razed' if Israel attacks
TEHRAN, Iran — A senior Iranian official has warned Israel not to provoke Iran a day after Israel's prime minister issued a similar warning to Tehran.
Ali Shirazi, an aide to Iran's supreme leader, was quoted by the semi-official Fars news agency as saying Iran is capable of destroying Israel. He says "if you provide an excuse for Iran, Tel Aviv and Haifa will be razed to the ground."