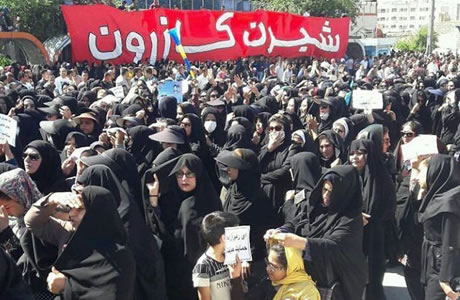 Thousands of people took to the streets and the main mosque in the city of Kazeroun for the fifth consecutive day chanting slogans against Iran regime officials. Kazeroun is one of the major cities of Fars Province in southern Iran. The protest took place on Friday, April 20, 2018, in the main streets of Kazeroun where people demanded resignation of the "incompetent Governor."
Women were actively involved and their presence was extensive and remarkable.
The protesting men, women and youths marched towards to the city's main mosque, Imamzadeh Seyed Nour Mohammad, and disrupted the Friday Prayer. They interrupted officials' calls intending to silence them by strong chants. They chanted slogans against Hossein Rezazadeh, member of the mullahs' parliament from Kazerun and accused him of "treachery."
The people of Kazeroun oppose a proposed bill to divide their city. According to a bill which is due to be confirmed by the government, the districts of Chenar Shahijan and Qa'emieh will be separated from Kazeroun to form a separate city called Kouh Chenar.