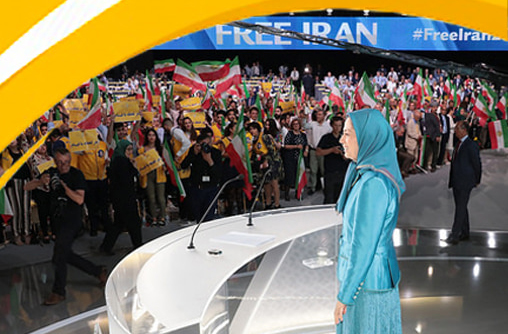 On Saturday, June 30, the Iranian Resistance held its massive gathering in Villpeinte, just outside of Paris. In this congregation, which the media reported over 100,000 people participated, Iranian opposition President Maryam Rajavi hailed the protesters inside Iran and expressed her gratitude.
"The first thing that must be said this year is that flames of the auspicious and liberating uprising are again rising in Tehran and across Iran," Mrs. Rajavi said in her speech…
One of the main signals of this regime being in its overthrowing period is the international situation besieging the mullahs. They have lost their most important international policy supporter, being the former U.S. administration's appeasement policy.
The international shield protecting this regime has fallen and the nuclear agreement known as the JCPOA has come to an end, now becoming nothing but a lifeless body.
An avalanche of sanctions is engulfing the entire mullahs' regime and as a result their warmongering and regional adventurism is dwelling. The Iranian Resistance has for more than three decades called for these sanctions against the mullahs' regime…
Another very important signal of this overthrow period – deliberately cloaked and not mentioned by the mullahs' regime – can be seen in a link establishing between Iran's protesters inside the country and the organized opposition (stationed abroad). All the regime's officials have time and again acknowledged this reality.
Khamenei himself has in his speeches mentioned this issue and claimed he is citing credible intelligence.
"The [PMOI/MEK] have plotted and worked on their plan regarding domestic protests and taking advantage of protesting people's demands," Khamenei said in a speech.
Finalizing her remarks, Mrs. Rajavi said this regime's overthrow is near. To those suddenly mushrooming and claiming to be this regime's opposition, she said if anyone believes this regime can be overthrown without an organization and without a pioneering organization, and without passing numerous tests through the years and without paying the price, without sacrifice, we say: Please go ahead. Don't hesitate.
However, the harsh reality is that overthrowing this regime needs an organization and a strong political alternative. We are not anyone's rival to obtain power, Rajavi added.
Based on a Plan adopted by the Iranian opposition coalition, the National Council of Resistance of Iran (NCRI), a transitional government will be established for a period of six months following this regime's overthrow. This transitional government will be tasked to launch the parliament through free and fair elections.
This parliament must comprise the new constitution within two years and place it before the people's vote. Furthermore, this body must establish the new republic's fundamental entities based on the people's vote.
The Iranian Resistance has said time and again that overthrowing this regime and democratic regime change in Iran, and launching a free Iran, are the responsibility of none other than this Resistance and the Iranian people.
Truly the sunlight of change is shining in Iran and regime change is at hand more than ever before.
(Source: PMOI/MEK)