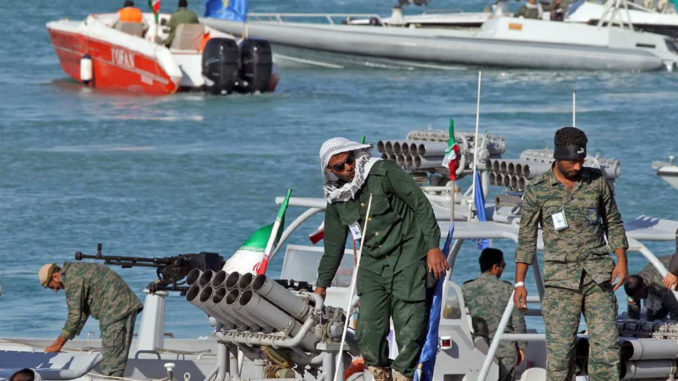 By Amir Taghati
The commander of Iranian Regime's Islamic Revolutionary Guard Corps (IRGC) has threatened to block all exports in the Gulf's Strait of Hormuz if the international community abides by U.S. calls to stop buying Iranian oil from November, when sanctions are re-imposed.
Roughly one-fifth of global oil consumption travels through the Strait from Middle East oil producers to major markets in Asia, Europe and the U.S., making this a concerning threat, but rest assured that all evidence points to Iran not being able to close the Strait.
The Iranian Regime cannot close the Strait legally because part of it is in Oman's waters and Oman is unlikely to agree to this.
However, ships that pass through Iranian waters, which are under the control of the IRGC, could come under threat as has happened on several occasions in the past, as outlined below.
• 1980-88 –> Iran attacks Iraqi ships to hamper exports during the Iran-Iraq War.
• 1988 –> Iranian mines damage U.S. frigate.
• 2007 –> Iran detained British sailors.
• 2014 –> IRGC deputy head Hossein Salami instructs recruits to use cruise and ballistic missiles and drones, mines, speedboats, and missile launchers to confront the U.S. in the Gulf.
• 2015 –> Iran shot at a Singapore-flagged tanker, accused of damaging an Iranian oil platform, holding their crew for over a week. Also, the IRGC stages a drill to blow up a replica of a U.S. aircraft carrier in the Strait.
• 2016 –> IRGC holds and interrogates US sailors overnight after they enter Iranian territorial waters.
• 2016-17 –> IRGC makes numerous "unsafe" or "unprofessional" approaches to U.S. Navy ships, working out to an average of 2.5 instances per month.
But the U.S. Navy Fifth Fleet has promised to protect any commercial ship that travels through the Strait of Hormuz and has warned Iran that closing the Strait would be a red line and would result in the US taking action to reopen it.
Navy Capt. Bill Urban, the U.S. Central Command representative, said: "We have the forces we need to maintain [the] free flow of commerce and the freedom of navigation."
It is worth noting that Iranian regime would not be able to withstand a military assault by countries like the U.S., Saudi Arabia and the United Arab Emirates. The IRGC may have a slight advantage in the Gulf due to their reliance on measures that would do well in tight operational spaces, but the U.S. has promised to use minesweepers, warship escorts and potentially airstrikes to protect the free flow of commerce.
However, it is likely that this threat to close the Strait was more a negotiating tactic, designed to save the nuclear deal and prevent U.S. sanctions from destroying Iranian regime's exports.
Even a senior Iranian regime's official said. "Iran has never closed the waterway … even under the worst conditions and mounted pressure on the country."
(Source: NCRI)