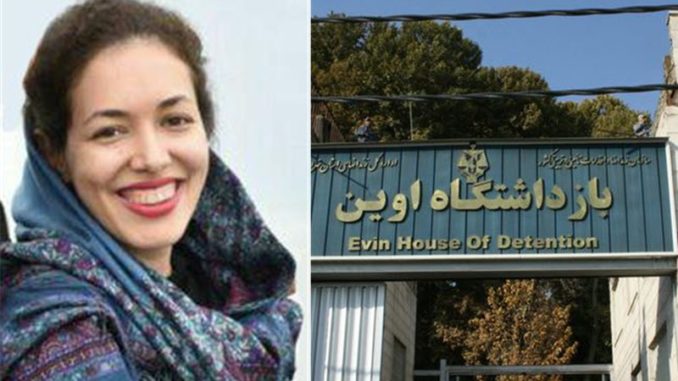 A female prisoner of conscience who was arrested for teaching Persian literature is being denied medical care in Evin Prison in Tehran. This is tantamount to medical terrorism, a crime that is all too common under the Iranian Regime.
Negin Ghadamian, a Baha'i woman who is serving five years in Evin Prison for teaching Persian literature to Baha'i students, is not allowed access to dental treatment in an outside facility because the head of the prison clinic, known as Agha Khani, did not authorize her transfer to a hospital despite the fact that the prosecutor's office has given permission for her transfer.
Ms. Ghadamian is a teacher for the Baha'i Institute for Higher Education (BIHE) who was arrested at the airport on December 16, 2017, as she and her husband Pouya Oladi were boarding a plane for Europe. She was then taken straight to prison to start the sentence that was handed down to her in 2013.
She was first arrested in 2011 after Intelligence Ministry agents conducted a mass raid on the homes of 39 staff and faculty members of the BIHE, during which they confiscated her computer, scientific and religious books and some other personal items, before taking her to an unknown location for interrogation. She was released after a few days.
However, on 12 March 2013, Negin Ghadamian and nine other Baha'i teachers were summoned to the Revolutionary Court in Evin Prison and told that they must either sign a pledge to quit working with the BIHE and stop teaching Baha'i students otherwise she would be sent to prison.
It should be noted that the Iranian Regime consistently tries to deprive students of the Baha'i religious minority of their education often banning them from attending university, despite passing the entrance exam and their high academic achievement.
Ghadamian and six others were arrested on the spot after they refused to sign the pledge, but they were later released on a 50 million Toman bail pending their trials.
In 2013, the Revolutionary Court sentenced Ms. Ghadamian to five years imprisonment for "acting against national security through membership to the Baha'i deviant sect" and working with the "illegal" BIHE.
She appealed her case, but agents of the Intelligence Ministry arrived at her workplace and took her to Evin Prison in early 2015, before the court of appeals issued its verdict. Her lawyer managed to secure her release on bail once again pending the appeals court's decision.
Sadly, the court's decision was upheld in early 2017.
(Source: ncr-iran.org)