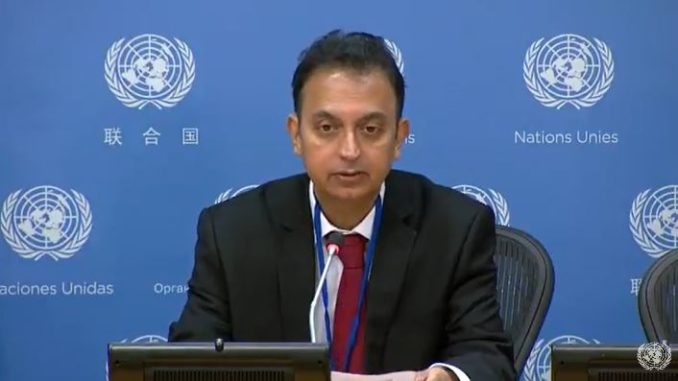 In a press conference held on 24 October 2018 after the UN session, the UN Special Rapporteur, Javid Rehman, expressed his concern about the human rights abuses in Iran including high number of prisoners while denouncing the increase in executions and suppression inside Iran. The Special Rapporteur's concerns include:
*  Environmental activists charged with "corruption on earth" and facing the death penalty.
*  Women arrested for protesting against the compulsory hijab.
*  At least 8,000 people arrested during the protests late December and early January and threatened with the death penalty.
Rehman advised that the UN continue to monitor the protests in Iran, which are ever increasing, and the Regime's suppression and abuse of those arrested and detained. Many Iranian prisoners have died under suspicious circumstances, likely whilst being tortured, since the start of the year, but the Regime claims that these are suicides and rejects a full investigation of the facts.
Although the international community is holding the mullahs' regime accountable, and despite repeated requests, the Iranian regime rejects to grant visit to the UN special rapporteur and human rights monitors to look into the situation in Iran directly. Since 2005, no one has been allowed to visit Iran to inspect the human rights situation in the country.
The Iranian society expects the U.N. Human Rights Council to take their ongoing protests into consideration and address the dire human rights situation in Iran. The next reports of the UN special rapporteur must deeply unveil this catastrophic human rights situation for the international community.
The protests in Iran began in late December over a proposed budget that slashed subsidies for the poor and quickly spread over the country. During the Iranian Regime's crackdown, 50 people were shot in the streets, 8,000 people were arrested, and 14 died under torture in prison. This, however, did not stop people's protests and strike by various strata of the society. These peaceful protests have now reached an unprecedented level and people are demanding their rights and calling for democratic change in Iran.