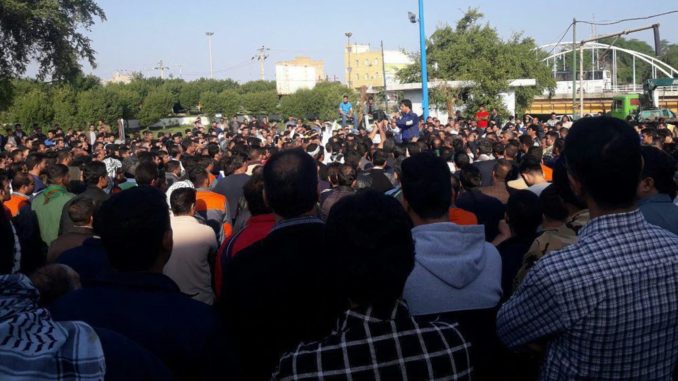 The Haft Tappeh Sugar-Cane Mill workers gathered in front of this complex on Saturday, November 17, and marched toward the governor's office in dense ranks as the labor protests expand to an unprecedented level in Iran. Young people, students and workers' families participated extensively in the demonstration. Women played a significant role in front of the demonstrators, the NCRI reported on Sunday.
The massive demonstration took place in spite of repressive measures that created a climate of fear and terror. Reports indicate that scores of the special anti-riot and other repressive forces were present in the governorate and the city during the protests and rally.
The protesters chanted: "We are workers of the Haft Tappeh, we are hungry, hungry", "Down with the oppressor, hail to the worker", "Workers die, but do not accept humiliation", "One less embezzlement, our problem will be solved!", "the authorities' betrayal must be announced", "we do not want incompetent officials", and "Government, embezzler, happy engagement!"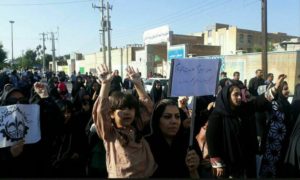 While women had leading role in directing and flaring up the demonstration, protesters, including youth and students, carried hand written banners reading: "We are children of Haft Tappeh , we are hungry", "Dad gave water & Dad gave bread are no longer our slogan; Dad gave his life". They also chanted: "We don't want false promise, we want our rights."
The NCRI President-elect, Maryam Rajavi, saluted the women leaders in the passionate demonstration of Haft Tappeh workers on Saturday and said: "Women's leadership in the strikes of Iranian teachers and workers is a pride and flares up the flames of uprising and justice."
She called the voices of the brave strikers of Haft Tappeh and Ahvaz Steel as a voice for the freedom and justice of the Iranian people, urging all young people to support these leading workers. She called on all international human rights organizations and trade unions around the world to support the striking workers in Iran.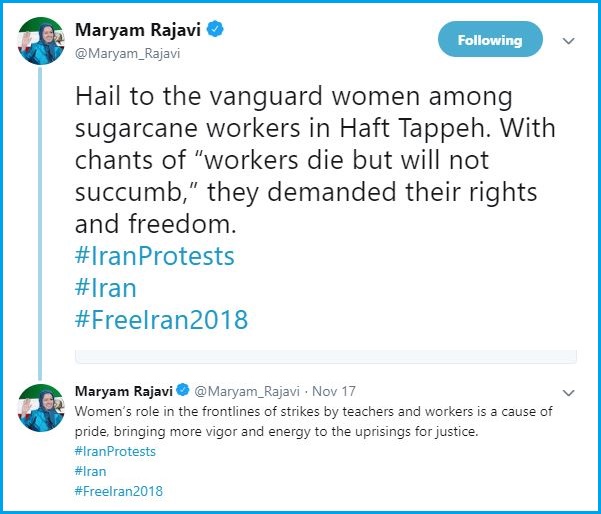 Watch Videos of the Protests Here & Here