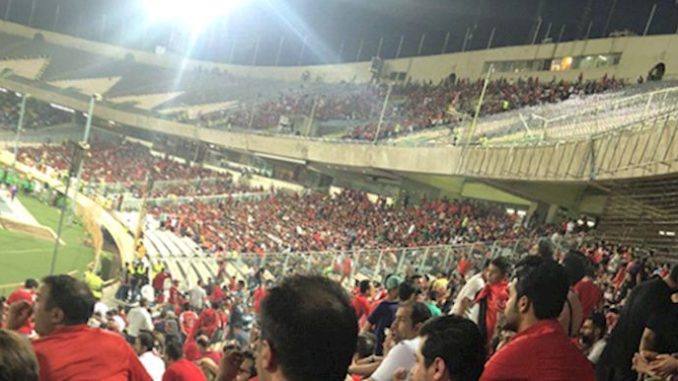 On Friday, August 17, a football (soccer) match between Tehran's Persepolis team and Masjed Suleiman's Naft (Oil) in the capital's Azadi Stadium became the scene of an anti-regime protest in which the youths were chanting slogans such as "Mullahs must get lost," according to sources from Tehran.
A high number of security forces were present at the scene while the match was in progress. Many police and anti-riot units were also dispatched to the stadium as the protests began. Reports indicate that the youths clashed with the security forces.
This is the second consecutive week that protests are erupting during football matches in Iran while people's protests and uprising that started last December continue in many cities across the country.
Last Friday, August 10, 2018, during the soccer match between Tehran and Tabriz clubs at Azadi stadium, thousands of spectators expressed their anger at the oppressive regime by shouting "Death to the Dictator" despite the fact that the regime's authorities had stationed a large number of their Basiji forces affiliated to the IRGC intelligence and IRGC guards. The regime had also stationed many intelligence agents and anti-riot guard as well as plainclothes agents among the crowd in order to prevent the youths' protest.
Bringing anti-riot guards into the stadium was an unprecedented measure. Nevertheless, despite all these measures, the brave youth broke the obstacles that had already been set up in the stadium stand, and loudly chanted slogans "Death to the Dictator" and "Security Force, shame on you, savage, savage" all over the stadium. They resisted the brutal attack of repressive forces and punished a number of them.
The regime's tricks for making the two clubs' fans fight each other for deviating the youths chanting did not work and Azerbaijani Iranians and supporters of Tabriz Tractor-Sazi Club also chanted "Everywhere in Iran is my homeland; Long live Azerbaijan". In addition, outside the stadium, the young people who were not allowed to enter the stadium clashed with the repressive forces.
The protests continued even after the match ended and spread to Azadi Square in Tehran. Anti-riot guards and plainclothes mercenaries rushed into the crowd with their motorcycles and injured and battered a number of them. Brave youths, however, confronted them courageously.
Source: PMOI/MEK