Iranian society Call for decisive action against Iranian regime's terrorist plots in Europe and elsewhere.
On Monday, November 19, supporters of the Iranian Resistance (NCRI) staged demonstration in Shuman Square in front of the EU Headquarter in Brussels urging EU to take decisive measures against the wave of terrorist plots in Europe masterminded by the Iranian regime.
Iran's people want democratic freedoms but the clerical regime response only by systematically repressing the demonstrators inside the country and attacking the opposition via disseminating misinformation & terrorist plots abroad.
According to the NCRI supporters, "Iran's embassies act as a cover for terror plots in Europe and elsewhere." The Resistance supporters underscore: "Iran's embassies are used for the planning and execution of terrorist operations in Europe. These plots are serious threats for the European citizens and global security."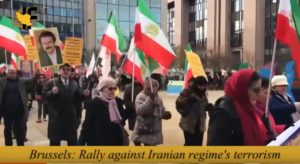 The NCRI supporters pinpointed that Iranian regime is the main state-sponsor of global terrorism and urged European Union to acknowledge this fact. The demonstrators also called on the EU to blacklist Iran's Ministry of Intelligence and Security (MOIS).
The demonstrators added: "In the past few months, an Iranian diplomat was arrested and several others affiliated to the regime (embassies) have been expelled from France and the Netherlands for their involvement in terrorist plots. That is why we are calling for the expulsion of Iranian diplomat terrorists and closure of Iran's embassies on European soil."
The NCRI supporters cited: "Albania, France, and Denmark have fortunately foiled the regime's terror plots on their soils, but these plots cannot remain without answer. We urge EU for serious measures and more pressure including comprehensive sanctions against Iran's regime."
"On October 30, the Danish intelligence services accused Tehran of preparing an attack against three Iranians residing in Denmark," the demonstrators reminded.
In addition, in a joint statement, three ministers of France stated: "An attempted attack in Villepinte was foiled on June 30. An incident of such gravity on our national territory could not go unpunished."
The demonstrators also denounced the EU's silence on the "massive human rights violations" and "waves of executions" in Iran.
On November 15, the UN General Assembly's Human Rights Committee adopted the 65th resolution sponsored by Canada and a number of other countries as co-sponsors censuring Iranian Regime's human rights abuses. The UN committee expressed serious concerns over the high number of executions, dire prison conditions, torture and arbitrary arrests in Iran.
The demonstrators also expressed solidarity and support for the rightful protests of Haft Tappeh Sugar Mill workers in the city of Shush and the National Steel Group employees in Ahvaz, and also for persistent protests and strike by other sectors of Iran's society against the mullahs' regime.
Read more on this issue Here.