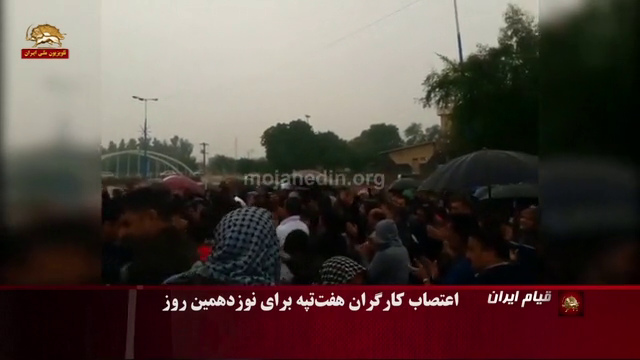 On the 19th consecutive day of their strike, workers of Haft Tapeh Sugar Mill in Shush, Khuzestan Province, continued their protest,  on Friday November 23, in the city's Moalem Square, next to the mayor's office, against unpaid wages and factory's mismanagement. Parallel to Haf-Tapeh Workers protets, there have been a number of other similar demonstrations across the country including the protests and strike by Ahvaz Steel workers and other strata of the society.
The protesters were holding banners and chanting the slogan "workers will die but won't give in to disgrace" while demanding the release of their apprehended co-workers.
On Sunday, November 18, at the end of the day's protests, the Iranian regime's security forces arrested a number of  workers and their representatives and transferred them to detention in the security police headquarters .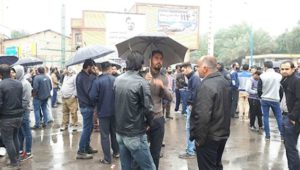 The angry protesters, however, in an act of defiance against the regime's attempt to intimidate and threaten the workers, they chanted: "Neither threats nor prison have any effect any longer." They also chanted: "Imprisoned workers must be freed!"
On Friday, the syndicate of Haft Tapeh workers declared that the workers will hold protest gathering at the entrance of the factory and will decide on how to continue their strike and call for the ouster of the company's private owners as well as the release of Esmail Bakhshi and other detained representatives of the workers.
The workers also reiterated: "The private mafia must be evicted from Haft Tapeh. All of our overdue salaries must be paid. Our contracts must be arranged based on labor laws. Mr. Esmail Bakhsi and Ms. Sepideh Ghalyan must be freed and there should be no criminal record for any representative of the workers."
Watch Video of the Haft-Tapeh Workers Demonstration Here & Here.
Watch Video of the Steel Workers Massive Demonstration Here & Here.