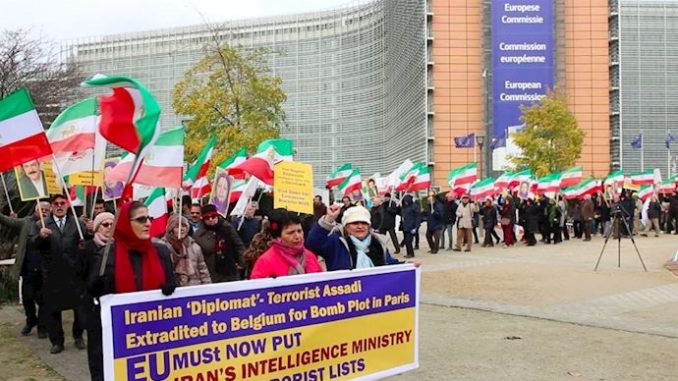 Supporters of the Iranian Resistance staged a demonstration in front of Copenhagen Municipality building on Friday November 23, 2018, to protest against human rights violations and high number of executions in Iran. They also urged the EU and U.S. to take deceive and adequate measures against the terrorist plots by Iranian Regime as the number one state sponsor of terrorism in the world. This is yet another demonstration by Iranians against the regime's human rights abuses inside the country and terrorism abroad.
The participants in the rally called for the trial of the arrested terrorists in Denmark and Belgium, particularly Asadollah Assadi, the Iran regime's Diplomat-Terrorist who was arrested in Germany over the "bombing plot" against the grand gathering of Iranian Resistance on June 30 in Paris.
Supporters of the National Council of Resistance of Iran (NCRI) and the PMOI/MEK also demanded blacklisting (FTO) of mullahs' regime ministry of intelligence and security (MOIS) in the U.S and Europe and immediate shut down of the regime's embassies in Europe and elsewhere.
The demonstrators announced their solidarity and support for the ongoing protests inside Iran and called on the international community to support the Iranian people's desire for democratic change in Iran.
Click Here to Watch More Video & Photos of the Demonstration.
(Source: NCRI)