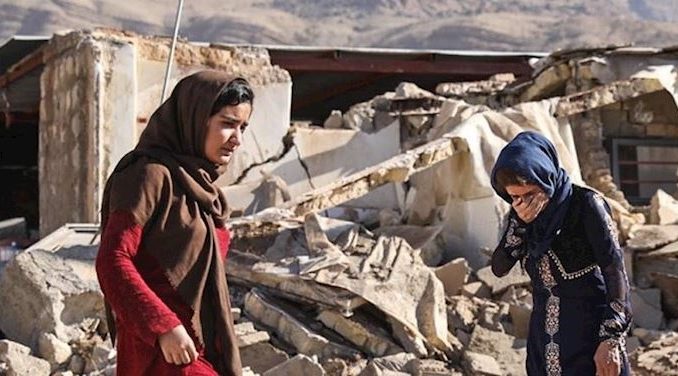 A powerful 6.3 magnitude earthquake struck western Iran near the town of Sarpol-e Zahab in Kermanshah province, on Sunday at ~8 pm local time. No immediate fatalities were reported. Although there are conflicting reports, early figures indicate the number of injuries has reached 200 to 300 people, most of them minors. However, Latest report confirms that the number of injuries has reached as high as 770 people.
According to reports, Head of the Kermanshah province Medical School said there were at least 50 injuries in the town of Qasr-e Shirin, four of them transferred to the city of Islamabad; 35 injured in Gilan-e Qarb, two transferred to Islamabad; and 51 injured in Sarpol-e Zahab. Unconfirmed reports posted in social media show seven deaths.
Following the earthquake, Mrs. Maryam Rajavi, President-elect of Iranian opposition, called upon her compatriots, especially the youth, to provide support to those in need. She said:
I urge my countrymen and women, especially the brave youth, to rush to the aid of our afflicted compatriots struck by earthquake in #Kermanshah and other cities and districts in western Iran, including Qasr-e Shirin, Sarpol-e Zahab, and Gilan-e Gharb. #Iran

— Maryam Rajavi (@Maryam_Rajavi) => November 25, 2018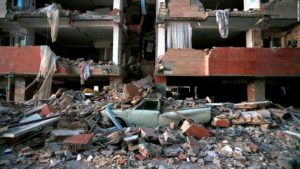 Iran is very prone to frequent tremors as it sits upon major fault lines. Last November in 2017, a magnitude 7.3 earthquake hit the province of Kermanshah leaving over 600 dead according to regime figures, while unofficial reports indicated death toll had reached thousands.
In 2003, a 6.6-magnitude earthquake in Kerman province killed at least 31,000 people and flattened the historic city of Bam. The National Council of Resistance of Iran (NCRI) cited sources inside the country placing the actual casualty numbers at above 70,000 deaths.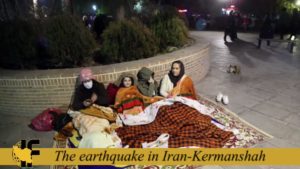 Like previous earthquakes in Iran, the Iranian government is again neglecting many afflicted people who require urgent assistance. People have lost all their belongings and are living in the streets and uninhabited areas and receiving help only from other compatriots. Reports show that people independent of the government are transferring the injured to local hospitals and providing some support minimum support for others in need.
The Iranian regime's immediate response to the Sunday's earthquake like before was dispatching security and repressive forces to secure the area fearing people's protest. However, the Iranian people are once again showing their strength and compassion by helping each other out when the Iranian regime has failed them.