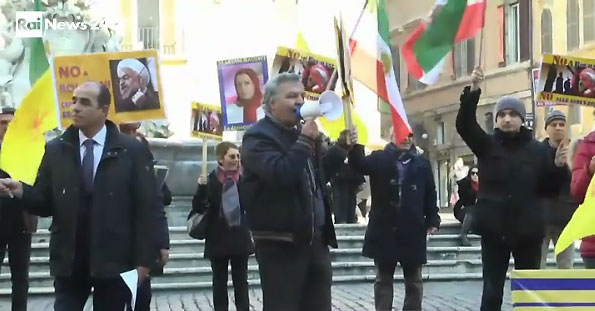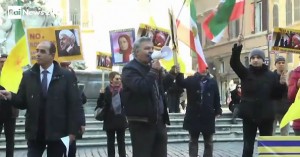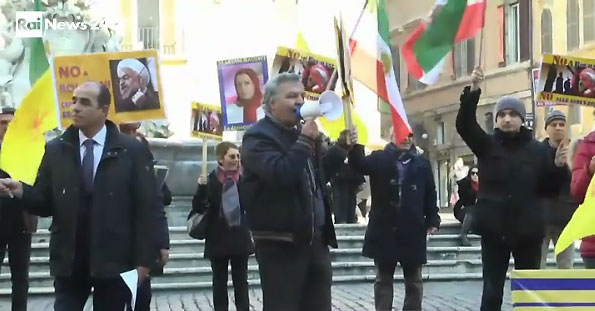 Members of the Iranian opposition demonstrated on Tuesday in Rome against executions in Iran and the October 29 missile attack on Camp Liberty in Iraq, the Italian news agency ANSA reported.
The protesters condemned the Tehran regime's export of Islamic fundamentalism and its support for the Syrian dictatorship and the continued slaughter of Syrian citizens.
'Rouhani has to be tried for crimes against humanity', they chanted. Some signs showing the executions in their country and 'genocide of Iranian refugees at Camp Liberty and the massacre of the Syrian people' were displayed.
We need "a real change of regime," said Sergio D'Elia, Secretary of Hands Off Cain. "This is a government that continue to export violence, terrorism, insecurity and instability."
Mrs Elizabetha Zamparutti, Treasurer of Hands Off Cain, said: "It is amazing that when the doors open," Iran "is not pressed firmly on the question of respect for human rights and the containment of the death penalty."
"This is really unacceptable: we cannot pretend that this country is credited in the world body without being called to respect the founding principles of the international community, which are related to human rights," she added pointing out that since Hassan Rouhani came to power in June 2013, there have been 2,277 executions in Iran.
Rai 1 TV reported: "Coinciding with the visit to Italy Hassan Rohani, President of the Islamic Republic of Iran, a protest was held in the square of the Pantheon in Rome in a demonstration against the wave of executions in Iran and the missile attack at Camp Liberty."
The protesters strongly condemned the export of Islamic fundamentalism and the support of the Iranian regime for the Syrian dictatorship of Bashar al-Assad and the continued slaughter of Syrian citizens.
In addition to the Iranians residing in Italy who attended the event also international supporters of the Iranian Resistance.
The event was supported by organizations in defense of human rights like Hands off Cain that has also organized a campaign against the unprecedented wave of executions in Iran.