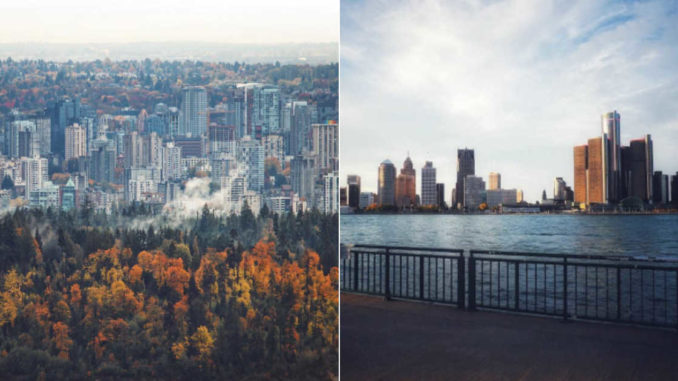 It's no surprise that the Canadian real estate market was a bubble that needed to burst. The cost of residential dwellings of any kind have been insanely expensive in some of the country's biggest cities across the board. Houses, townhouses, condos, and even trailers (ok, not really) have increased across the board.
If you're living in some of Canada's most expensive cities, you're definitely feeling the repercussions of this. Rent has gone way up due to the increased value of real estate and it hurts bad, real bad.
As you probably might have guessed or already know, the most insanely expensive Canadian cities to live in are Vancouver and Toronto. But according to a new survey by the real estate conglomerate Century 21, Vancouver alone has 2 of the most expensive neighbourhoods in all of Canada (Vancouver's west side and downtown areas), with Toronto's downtown core coming in at a close third.
So if you live in the west side of Vancouver, congratulations! You officially live in the priciest place in the country! We're not sure how you afford it, but to give the rest of the country some perspective, the Century 21 survey found that the average price per square foot in Vancouver's west side is a whopping $1,210, meaning that a tiny 400 square foot condo, which is approximately the size of a two-car garage, would cost you almost $500,000. WTF?!
And if you compare the country's most expensive city with it's cheapest, the difference is seriously jaw-dropping. Canada's least expensive city to buy a home, according to the survey is Windsor, Ontario, where the average price per square foot is $94.64 – LITERALLY one-thirteenth of the price on Vancouver's west side.
So Windsor inhabitants, you're the real winners because you can potentially buy a 400 square foot condo for under $40,000. That is not only insane but seemingly impossible in today's real estate market. But (and no offence to Windsor natives!), you really can't compare the Windsor views to those in Vancouver's west side.
Other interesting facts from the survey include Vancouver's west side is about as expensive as living in San Francisco, Toronto's suburbs are becoming pricier than New York's boroughs and suburbs, 8 out of the 10 most expensive neighbourhoods are all in the Vancouver area and the final 2 are in the Toronto area.
Here are the top ten most expensive neighbourhoods in Canada:
1. Vancouver's west side 
2. Downtown Vancouver 
3. Downtown Toronto 
4. West Vancouver
5. Vancouver's east side
6. Oakville, Ontario 
7. North Vancouver
8. Richmond, B.C. 
9. Burnaby, B.C. 
10. White Rock, B.C. 
Source: Huffington Post, Century 21