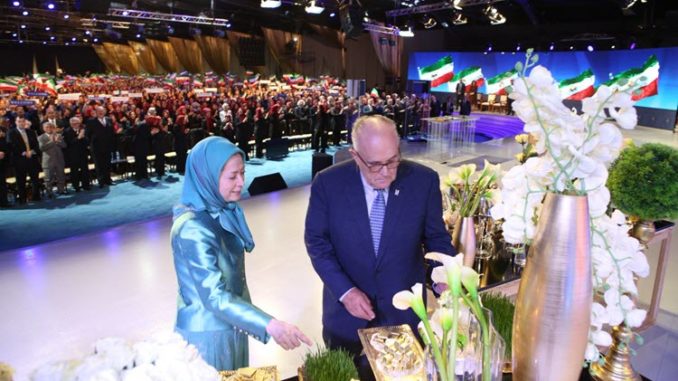 In a gathering celebrating the Iranian New Year, Nowruz, members of the People's Mojahedin Organization of Iran (PMOI/MEK) hosted an event in the Albanian capital of Tirana that featured speeches by political supporters of the Iranian Resistance including Rudy Giuliani, former Mayor of New York and advisor to the US President on Cyber Security; Pandeli Majko, Senior Minister of State and former Prime Minister of Albania; Elona Gjebrea, secretary of the parliamentary Foreign Affairs Committee; and Fatmir Mediu, leader of the Republican Party of Albania and former Minister of Defense.
The keynote speaker was Mrs. Maryam Rajavi, the president of the PMOI's parent coalition, the National Council of Resistance of Iran, who congratulated Iranians at home and abroad and said: "Last year ended with the season of uprising in Iran, and the coming year can and must be turned into a year full of uprisings, and this is going to be an uprising until victory."
"The critical situation of the mullahs' regime is a product of the Iranian people's historic resistance. The Iranian people have never accepted this regime. The time is up for protecting this decadent regime and the uprising will continue until final victory," Mrs. Rajavi said and added: "Khamenei had to admit that the force inciting protests in Iran is the People's Mojahedin Organization of Iran which had called for the protests and prepared for it since months before."
"When the people of Iran have the option of a free and democratic government based on the separation of religion and state, and based on justice and equality, why should they have to be content with a reactionary, decadent and inhumane regime?"
The President-elect of Iranian Resistance emphasized: "Europe's long-overdue focus on the threats posed by the Iranian regime's regional warmongering and its ballistic missile program is of course a positive step. Further steps are needed, including the expulsion of the regime from the region, shutting down its missile and uranium enrichment programs, and blocking its access to the international banking system. All these steps are necessary. However, a comprehensive, decisive, and strategic response to the regime entails standing with the Iranian people and Resistance, and recognition of their struggle for regime change, and the democratic alternative to the regime, the National Council of Resistance of Iran."
"The people of Iran demand immediate action, change, overthrow, and freedom. They demand bread, jobs, and housing. They demand the immediate abolition of all government coercions, including the compulsory hijab," Mrs. Rajavi reiterated.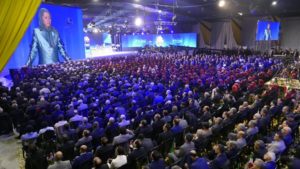 In his address to the Nowruz gathering, Mayor Giuliani wished the Iranian people and the Iranian resistance a happy New Year. He described the members of the People's Mojahedin Organization of Iran who have been struggling against the clerical regime for decades, in particular those who withstood all the sufferings and plots in Camps Ashraf and Liberty in Iraq for 14 years, as true heroes.
Giuliani underscored his support for the resistance of the Iranian people to establish democracy and human rights and praised the role of Mrs. Rajavi in leading the Iranian resistance movement. He said "Next year we will witness major changes regarding Iran. The corrupt regime of the ayatollahs is on the verge of collapse. The US policy, unlike the policy of the previous administration that was trying to appease the mullahs, is to hold them accountable for its crimes inside and outside of Iran and also to support the legitimate demand of the Iranian people for regime change and establishing democracy and human rights."
Mr. Giuliani added: "One of the biggest lies that the clerical regime disseminated over the years is that the MEK lacks popular support inside Iran. We had many reasons to repudiate this claim. The massive support of Iranian exiles from this organization and its annual gathering, with more 100,000 people taking part, left no room for these lies. But the MEK played such a crucial role in the recent protests that even the regime's leader described them as the main internal element for the unrest inside the country and the regime's president in a phone call with the French president described them as the source of unrest inside Iran and in vain asked him to restrict the MEK in France. These and similar cases indicate the massive and growing social base of the MEK inside the country."