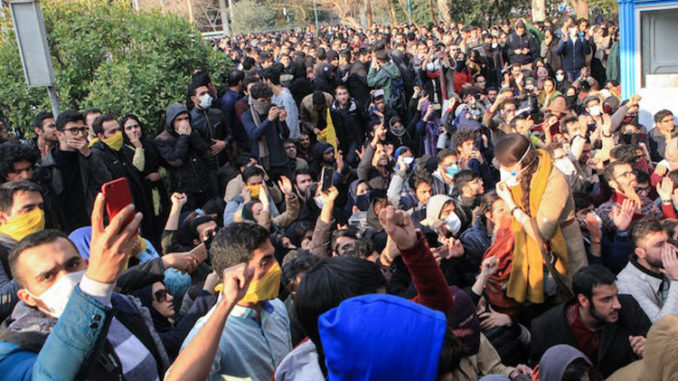 In an interview with the state-run media, a prominent security official of Iranian regime in the 1980s, who currently claims to be a reformist,  acknowledged that the slogans chanted during the recent protests and uprising in Iran targeted both "hardliner" and "reformist" factions.
Saeed Hajjarian, a founder of Iranian regime's ministry of intelligence, also added: "The slogan of 'crossing-out the reformists' was first introduced by the MEK.
The following is a report of Hajjarian's interview:
The interviewer pointing out last January's protests and uprising in Iran and people's slogans who chanted "Hardliners, Reformists, Game is Over now," asks:
Why any boundaries between the reformists and the hardliners in the eyes of the people are essentially vanished?
"Protesting people in bad economic conditions thought that hardliners and reformists were plundering the national wealth… The other root of this slogan might come from pure truth that, I say it frankly, some conformist reformists are looters and the history of their plunders goes back decades ago," Hajjarian answered.
"Instead of remaining at the surface, we should dive into the depth of the issue. What was the purpose of the narrators of this slogan? They targeted the whole Islamic Republic. Therefore, they addressed the two arms of the regime, the reformists and the hardliners…," he added.
"The fact is that the slogan of 'Crossing-out the reformists' was first introduced by the PMOI just after the beginning of Khatami's presidency," he continued.
Regarding his background, Hajjarian said: "They still consider me as part of the state's power bloc, and they say that it is good enough for him to be a founder of the Islamic Republic's Ministry of Intelligence…. The state's power block in my opinion is the nine people who, within a few days, put in their pockets as much money as one year's budget of a government institution by importing cars."
Hajjarian describes the rival band as "Standing Donkey" and his band as "Lying Camel" and says: "They may say that the reformists do not have the honor and esteem anymore to hear their voice. But there is a Persian proverb that says, (literally) "The lying camel is taller than the standing donkey."
"I believe that these protests will continue because Rouhani does not really have the power to improve the situation; there are corruption within the body of the government and some ministers are inefficient. The government has also shared part of its authority with military institutions," said Saeed Hajjarian, referring to the continuing protests and the state of the government.