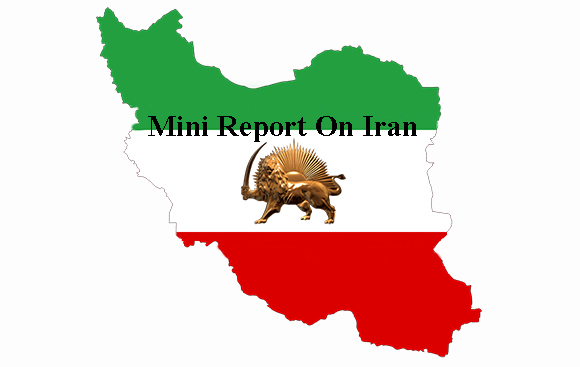 • Blackouts on the way, warns Iran's energy minister
Iran is experiencing its worst drought of the past 50 years such that the country's energy minister warned that power outages are inevitable next summer across Iran.
"Since the volume of water behind the dams is significantly lower than usual, if residents do not decrease electricity consumption, power cuts will be inevitable across the country," Energy Minister Reza Ardakanian announced on April 8. Source: Roydad Emroz daily
• Iranian regime desperately tries to unify exchange rates to halt currency decline
Iranian authorities have vowed to enforce a single exchange rate to the U.S. dollar in a bid to stop a slide that has seen Iran's rial currency fall by more than one-third in seven months.
Officials said that from April 10 on, the government will sell the dollar at a rate of 42,000 rials to all individuals and businesses, and asserted that "enemies" of Iran were behind the currency's decline
This announcement was met with widespread mocking and rdicule in Iranian social media.
• ISFAHAN: Farmers' protest rally continues
This morning, Tuesday, April 10th, according to the call made yesterday, protesters began their rally against their acquisition of their water – rights and waterlessness of their farms.
The number of participants in the rally is more than one thousand and it is increasing continiously.
It is noteworthy that Farmers in Isfahan, who have been waging massive and contentious protests since March, are demanding their very legitimate rights to the water and asking for the flow of water in Zayandehrud.
• Sharp drop in the value of Iran's currency
On Monday the rial was trading at 62,000 to the dollar. There was an 18 percent drop since Saturday, which was the first working day after the Persian new year, when many people travel abroad. Source: AP.
• Iran regime's casualties in Syria's airstrike
Seven Iranians died in airstrike in Syria; bodies brought to Tehran for funerals, according to Iran's state-run Tasnim news agency
• Vow to End Iran's Black Market Spurs Rush for Dollars in Tehran
Iranians flocked to foreign-exchange houses after authorities vowed to halt a currency slump by eliminating black-market rates, only to be turned away by currency traders awaiting instructions from the central bank. Source: WP
• Iran's central bank sets 10,000-euro limit for citizens' foreign currency holdings outside banks
The Central Bank of Iran has set a 10,000-euro limit for citizens' foreign currency holdings outside banks, state media reported on Tuesday. Citizens have until the end of the month to sell any excess amount or deposit it in banks, the central bank said in a statement published by the Tasnim news agency. Source: Reuters
• Arab Summit to Discuss Iranian and… Interferences
Arab Foreign Ministers meet at the Arab League headquarters in Cairo, Egypt, November 19, 2017. Arab leaders, kings and princes gear up to participate in the 29th Arab Summit scheduled to kick off next Sunday in Dammam with a busy agenda dominated by the Iranian and Turkish interferences in the region, the Palestinian issue, the crises in Syria, Libya and Yemen and the fight against terrorism. Source: Asharq Al-Awsat
• U.S.: Risks remain for those considering doing business with Iran regime
The U.S. on Tuesday welcomed reports that the European Union was considering new sanctions on Iran's regime and said risks remained for those who were pondering doing business with Tehran.
"There continue to be ongoing risks with doing business there because the Iranians have not reformed their system," Under Secretary of the Treasury for Terrorism and Financial Intelligence Sigal Mandelker said.
Speaking in London, he added that Iran's regime was using money to support Hezbollah, Hamas and Syrian dictator Bashar al-Assad. She said there was no transparency in the Iranian banking system.
• Dozens of MEPs condemn Iran regime's misinformation campaign against the PMOI (MEK)
Dozens of Members of the European Parliament from various political groups from all over Europe in a joint statement on Monday strongly condemned the stepped up campaign by the Iranian regime against the democratic opposition, namely the People's Mojahedin Organization of Iran (PMOI or MEK), specifically the members of the organization who are now resident in Albania. In a letter to Antonio Tajani, the President of the Parliament, the signatories, including a Vice President of the parliament, underscored that the statement pertains to a meeting organized by Ana Gomes, a pro-Iran Portuguese MEP, against the Iranian opposition at the European Parliament on April 10, EU Reporter wrote.
• Iran regime MPs call on Central Bank governor to resign as rial plummets
Iranian regime's President Hassan Rouhani and Central Bank Gov. Valiollah Seif have come under heavy fire over the sudden devaluation of the rial.
As the Iranian rial hit a record low, trading above 60,000 against the US dollar on April 9, criticism against President Hassan Rouhani and Central Bank Gov. Valiollah Seif has intensified.
The rial has dropped in value over the last few months and reached a nadir in the past two weeks, jumping from 50,000 against the dollar on March 26 to 60,000 on April 9.
• Saudi FM doubts that U.S. and Europe can agree on Iran deal
Saudi Arabia's foreign minister Adel al-Jubeir said on Tuesday it was unclear whether talks between Europeans and the United States would be enough to fix the Iran nuclear deal's shortcomings, and that Tehran's "vision of darkness" had to be stopped, Reuters reported. "There are two visions in the Middle East, a vision of light where you want to reform your country … and then there is a vision of darkness to use sectarianism, export your revolution, support terrorism … and that's the Iranian model," he said.