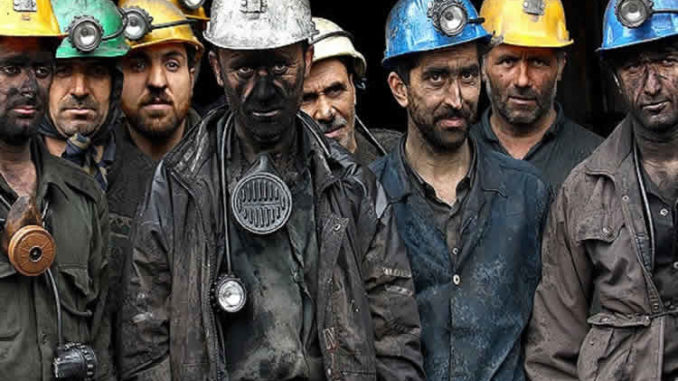 Following the Iranian Revolution in 1979, Iran's then Supreme Leader Ayatollah Khomeini spoke about the Iranian workers and their contributions to society, which was interpreted by some as the regime's intention to implement great reforms in workers' rights.
However, 39 years later the Iranian workers are still waiting for these reforms. Trade unions are banned, sometimes violently, and that means that workers are seeing great delays in payments and being forced to work in unsafe conditions.
As Mehdi Kouhestaninejad, a Canada-based Iranian labour activist, explained, the labour movement was only allowed to flourish during the first two years of the regime, but the regime leaders were scared of giving Iranian people even their most basic rights.
The labour activist said: "When the Islamic (Republic) regime intensified its brutal crackdown on the opposition in the early 1980s, workers' activists and unionists were not exempt from the horrendous suppression."
Now, Iranian workers have basically no rights under the mullahs' regime and the labour councils are made up of the regime's loyal workers who will not rebel against the bosses. Any true unionist movement in Iran "is repressed with violence and strikes are impeded by security forces, riot police and the militia", according to the 2017 International Trade Union Confederation (ITUC) Global Rights Index.
The Iranian Regime is basically stealing from the Iranian people, especially when you consider the fact that many Iranian workers are being consistently paid their wages late – sometimes by months. This is due to incredible corruption amongst the powerful and the Revolutionary Guard Corps who run the economy.
Many businesses have seen strikes and protests over late payment of wages, like at the Haft Tapeh Sugarcane Plantation and Industry Company, but these are often broken up by Iran's suppressive security forces.
The Haft Tapeh workers went on strike in December demanding long overdue wages and despite significant abuse from the Regime, the company finally paid their dues after two months of strikes and protests
However many union leaders in Iran, like Esmail Abdi of the Iran Teachers' Trade Association and Reza Shahabi of the Syndicate of Workers of Tehran and Suburbs Bus Company, have been sent to prison on intentionally vague national security charges (i.e. organising a protest). Others, like Mansour Osanlou, have been forced to leave Iran altogether and some, like Shahrokh Zamani of the House Painters Workers' Union, has died in prison due to neglect by the authorities.
Amnesty International's Iran researcher Nassim Papayianni decried this treatment of labour activists and called on Iran to end these wrongful imprisonments and allow for trade unions.
She said: "Without question, workers' rights are human rights. By criminalizing peaceful trade union activities and banning the formation of independent trade unions, the Iranian authorities are flagrantly violating their human rights obligations under international law."