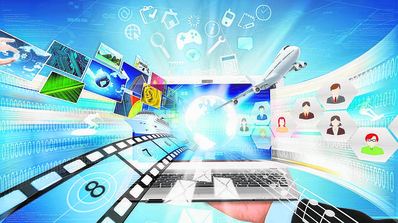 The Iranian regime's operation targeting internet users across the world is much bigger than previously thought, according to Reuters, who have found a network of anonymous websites and social media accounts in 11 different languages.
Last week, Facebook, Twitter, and Alphabet (Google's parent company) found multiple social media accounts and websites that form part of an Iranian campaign to covertly influence public opinion in favour of the regime across the world by sharing content from the regime's state-run media.
Reuters identified 10 additional sites and dozens of social media accounts across Facebook, Instagram, Twitter, and YouTube.
The news corporation passed their findings onto US-based cyber security firm FireEye, who uncovered the attack last week, and Israeli firm ClearSky, who confirmed that these newly identified sites and social media accounts were part of the same campaign that the social media giants had cracked down on.
This misinformation campaign by the Iranian Regime highlights how state-affiliated groups are exploiting social media and manipulating users to further their geopolitical agendas.
Ben Nimmo, a senior fellow at the Atlantic Council's Digital Forensic Research Lab, said: "It's a large-scale amplifier for Iranian state messaging. This shows how easy it is to run an influence operation online, even when the level of skill is low. The Iranian operation relied on quantity, not quality, but it stayed undetected for years."
While Facebook and Twitter both confirmed that they are still investigating these Iran-linked accounts and removing them.
Facebook spokesman Jay Nancarrow said: "This is an ongoing investigation and we will continue to find out more. We're also glad to see that the information we and others shared last week has prompted additional attention on this kind of inauthentic behaviour."
While Twitter said that it had removed an additional 486 accounts, many of which were "sharing divisive social commentary".
Google did not comment, but has taken down another YouTube account linked to the campaign.
The Iranian network, known as the International Union of Virtual Media (IUVM), admits on its website that it seeks to confront Western governments. It operates a number of outlets, from an app to a YouTube channel to a "news" website. They operate in English, French, Arabic, Farsi, Urdu, Pashto, Russian, Hindi, Azerbaijani, Turkish, and Spanish. The majority of their content is reproduced from Iranian state-run media on websites purporting to be based in the West.
FireEye analyst Lee Foster said that one of the biggest IUVM websites, was registered in January 2015 with the same email address used to register two other Iran-run sites, while ClearSky said multiple IUVM sites were hosted on the same server as another Iran-run site.
(Source: NCRI)