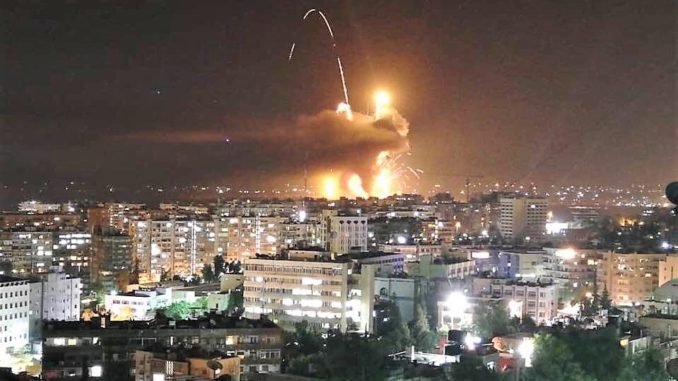 A variety of reports indicate massive explosions occurred at the Mezzeh airbase near Damascus, Syria, early Sunday morning local time causing a number of casualties including 36 operative's of Iranian regime's IRGC.
According to Reuters reports, "Syrian state media said that loud blasts coming from an airbase early on Sunday were from an explosion at an ammunition dump caused by an electrical problem, but an official in the regional alliance backing Damascus said they were from Israeli strikes.
"A war monitor, the Syrian Observatory for Human Rights, also attributed the blasts to Israeli strikes, which it said caused deaths and injuries.
"Israel has previously acknowledged having carried out air strikes in Syria aimed at degrading the capacity of Iran and its allies, including Lebanon's Shi'ite Hezbollah group, which are backing Assad in the country's seven-year civil war. There was no immediate comment from Israel on reports of Sunday's blasts or that it was behind them.
"In May, it said it attacked nearly all of Iran's military infrastructure in Syria after Iranian forces fired rockets at Israeli-held territory for the first time in the most extensive military exchange ever between the two adversaries."
Sky News TV network quoted eyewitness saying a number of other explosions were also seen taking place at the site. Following these explosions, with the cause still unknown, a large fire was seen raging in this airbase.
Local sources also say Assad's air defense units began responding to this incident with undetermined attacks. The Al-Mayadeen news network reported a number of explosions taking place some 15 kilometers from the city of Damascus.
Sky News Arabic network added, "An official in the regional alliance supporting the Assad regime says a missile strike targeted the Mezzeh airbase and Assad's air defense units responded to this attack."
The Syrian Observatory for Human Rights also reported a number of deaths and injuries resulting from these explosions. Assad's 4th Division units have reportedly launched surface-to-surface missiles in response.