New Improved Technology & Analytics Could Make Intl. Sanctions Against Iran Regime More Effective Than Before.
A Combination of Machine Learning, Big Data and Millions of Satellite Images Could Identify Carriers of Iranian Regime's Crude Oil Trying to Evade Intl. Oil Sanctions.
Satellites, Big Data Help U.S. Spy on Smugglers of Iranian Oil
By Benoit Faucon,  WSJ, Nov. 1, 2018:
Ships carrying Iranian crude have long used tactics like changing their flags of registration or switching off their radio signals to avoid detection amid Western sanctions.
But when a new U.S. oil export ban begins on Nov. 5, many of the tricks of seaborne oil smuggling are less likely to be effective at helping Tehran circumvent the coming trade barriers. That is thanks to improved satellite tracking and big-data technology that weren't widely available just a few years ago, according to current and former Western officials focused on sanctions.
"Iran's ability to turn its tankers truly into ghost-ships will be more limited," said Richard Nephew, former deputy coordinator for sanctions policy at the U.S. State Department.
On a typical day last year, Iran exported some 2.2 million barrels a day of crude. U.S. officials have said their new ban is intended to stop every barrel of Iranian oil leaving the country. For that strategy to work, authorities are likely to rely on information from companies like Tel-Aviv-based Windward Ltd. Windward, along with firms such as U.S.-incorporated TankerTrackers.com and Paris-based Kayrros, track suspicious movements as part of a broader effort to assess global oil supplies.
For example, in September, Windward said its technology detected a tanker leaving an Iranian port and turning off its radio signal, it was followed by two other tankers that also turned off their radio transmitters. Days later, Windward said, the ships returned to Iran, empty. The Wall Street Journal has confirmed Windward's findings independently.
These ship-tracking firms count government bodies, shippers, vessel owners and insurers as clients. Windward says one of its clients is the United Nations panel that polices North Korean sanctions, but it declines to disclose other customers. Apart from providing information directly to clients, these firms can also circulate reports that are widely read. U.S. officials say those reports make up an important part of their sanctions enforcement efforts.
Iranian oil and shipping officials didn't respond to requests for comment.
Windward used machine learning to calculate a ship's distance and speed to understand if the vessel had stopped broadcasting from its radio transmitter to conceal its behavior. Ships send wireless signals, called automatic identification systems, to help avoid collision and allow rescuers to locate distressed ships. A ship with its signal switched off raises suspicion.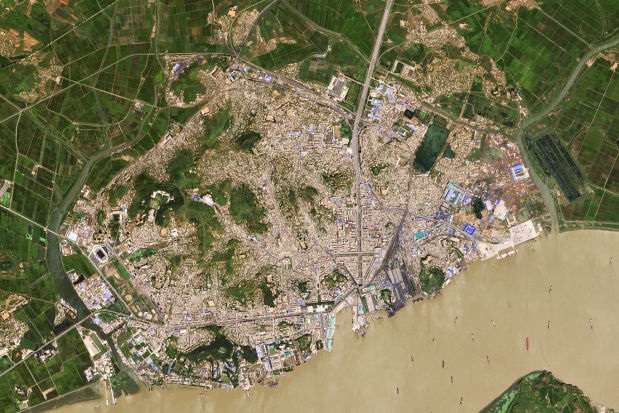 While alerts about suspicious actions may not stop illicit deliveries at the time, those reports could be used to show a pattern of inappropriate behavior.
Kayrros relies on Copernicus, a European earth observation program established in 2014 that continuously updates images of vast swatches of ocean waters. "Before you could only have an update every six months," said Kayrros's co-founder and president Antoine Rostand.
These companies are combining satellite images with other tools that can identify suspicious movements, spot decoys and track ships making transfers of cargoes to other vessels.
Those scans can inform algorithms, which improve over time to better predict how vessels ought to behave. When a ship does something the model doesn't expect, it throws up an alert.
Investigators can use the smallest details, including shadows, to detect how much cargo a vessel is carrying. That can allow them to trace when and if that cargo has been unloaded. A ship with no cargo weighing it down sits high in the water, casting a longer shadow. One that is laden with cargo will be much heavier, and sit much lower, casting a shorter shadow.
Still, the cat-and-mouse game that smugglers and sanctions enforcers have long played on the high seas isn't likely to come to an abrupt end soon. For instance, there are still gaps in satellite coverage, "dark" spots, that smugglers can identify and exploit.
Today's improved technology is likely to be more efficient than in 2012, though. Back then Iranian shipping executives made no secret of routinely registering vessels under other countries' flags, in an attempt to disguise their provenance and evade sanctions.
More recently, ships carrying Iranian crude have switched off their radio-signal tracking systems, or have provided misleading information about their cargo, according to ship tracking outfits like Windward.
"Compared to 2012, there has been a step-change in commercially available maritime tracking and data analysis technologies," said Hugh Griffiths, coordinator of the United Nations' North Korea sanctions panel.
Mr. Griffiths' panel, which doesn't deal with Iran, has used tracking technologies to expose Chinese vessels secretly transporting coal out of North Korea, according to a March 2018 U.N. report. Last year, Pyongyang made $200 million exporting coal and other commodities in violation of international sanctions. In August 2017, a vessel loaded coal at a North Korean port with its radio off. After switching back its signal, it loitered near a Chinese port, a tactic that could have made it appear its cargo had originated there. The ship later sailed to Vietnam and unloaded its cargo.