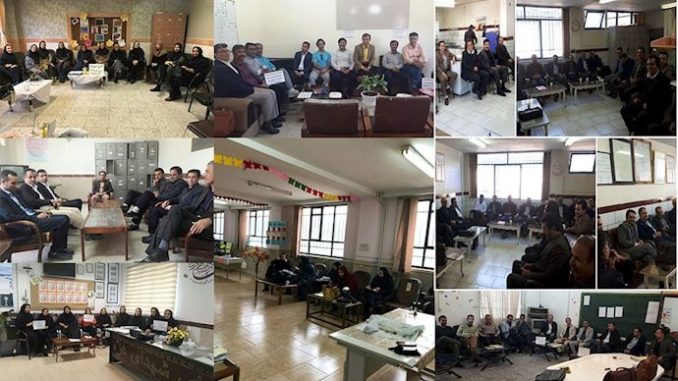 In the new round of their nationwide strike, Iran's teachers began the second day of their sit-in protest in many cities across the country on Wednesday, November 14. The strike began yesterday in protest to the deteriorating living conditions, suppression of teachers, high inflation rates and declining purchasing power of Iranian consumers. The teachers are also demanding an end to discrimination by the regime against working and retired teachers.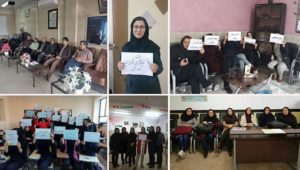 The Iranian regime has been trying to intimidate the teachers and educators to end their strike by issuing various threats including summoning and arresting them after they held a nationwide sit-in protest last month on October 14 and 15. Several teachers have been arrested and imprisoned for standing up to their rights in the past few days. The strike follows several similar strikes by teachers in the past months and is happening against the backdrop of nationwide protests and strikes by different classes of the Iranian society including Truckers, Workers, Merchants & Farmers that have been ongoing since the beginning of the year.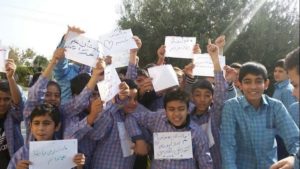 Yesterday, students across Iran expressed their support for their protesting teachers and their legitimate rights. Iranian opposition leaders Maryam Rajavi also voiced her support for the teachers' movement. While saluting the protesting teachers and educators, she called on the frustrated public, especially the youth, to express solidarity with the teachers.
"Anti-cultural and anti-Iranian dictatorship of the mullahs has destroyed culture and education. The catastrophic situation of working and retired teachers is a product of the plundering and repressive policies of the anti-cultural clerical regime, and it becomes worse as long as this regime is in power. A regime that has only brought torture and execution, war and terrorism, poverty, unemployment, corruption and plundering for the people of Iran," Mrs. Rajavi said.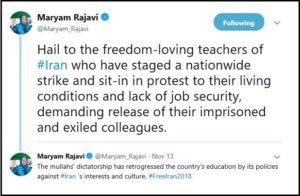 Latest report indicate that the teachers' strike has reached at least 80 cities and 340 schools across the country while the number of students showing solidarity and support for their teachers is on the rise.
On Wednesday, the following Iranian cities joined the nationwide strikes of teachers: Eslam Shahr, Saqez, Divandareh, Babol, Bushehr, Kewrmanshah, Karaj, Yazd, Isfahan, Tehran, Zanjan, Najaf Abad, Shiraz, Iranshahr, Sardasht, Ravansar, Dehkalan, Mahabad, Sanandaj, Urumiyeh, and dozens of other cities including a number of cities in Northern Khorasan Province.
Click Here to See Photos of Striking Teachers in Various Cities Across Iran.