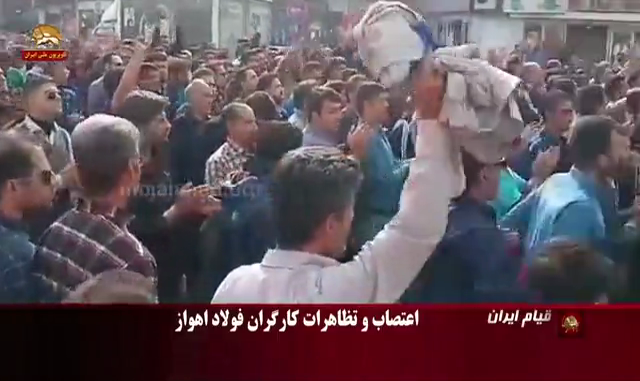 News Update – Monday, November 26, 2018 – Iran Protests Continue: Ahvaz Steel Day 17 & Haft Tapeh Workers Day 22
Despite the security atmosphere and heavy presence of anti-riot and repressive forces, Ahvaz Steel Workers continued their 17th consecutive day of strike and demonstration in the city of Ahvaz concurrent with the 22nd day of protest rally by Haft Tapeh Sugar Mill Workers in the city of Shush, also in Khuzestan province. *(Watch Video of Demonstration).
The National Steel Group Workers started their rally while the regime's repressive forces were trying to siege and block the streets. But the workers succeeded in breaking the ring of siege and moving forward passing the city's governorate office and continued their protest rally in the streets of Ahvaz. On their way to the demonstration, a group of young Ahwazi joined the demonstrators on their way and participated in their rally.
According to reports, angry protesters pushed the security agents off the streets and continued their march while chanting the slogans, "We Steel Workers fight against cruelty and oppression", "Workers will die but will not give in to disgrace."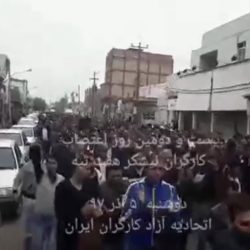 They also chanted: "Our enemy in right here, they lie and say it is America", "Mafia – Government Congrats on your joint venture" , "Khuzestan will die but does not Accept humiliation." In front of the regime's National Bank, the workers chanted: "Mother of all corruptions in Ahvaz is right here."
Along with Ahwaz, the city of Shush has also witnessed massive demonstration of the Haft Tape Sugarcane workers for the 22nd consecutive day. Brave workers of Haft Tapeh gathered in Moalem (Teacher's) Square opposite the regime's governorate.
The protesting workers of Haft Tapeh (Seven Hills) sugarcane slogans: The worker dies but does not accept disgrace", "Death to oppressor, hail to the workers", "Imprisoned workers must be freed," and "(Workers of) Steel & Haft Tapeh, Unite, Unite."
The Iranian people across the country are opposing the regime's repressive policies and human rights abuses inside the country and warmongering and export of terrorism abroad. They are fed up with the corruption and poverty the mullahs have brought for them since the inception of the regime. They now see clearly that the only way to solve these problems is a democratic regime change in Iran by Iranian people and their organized resistance.