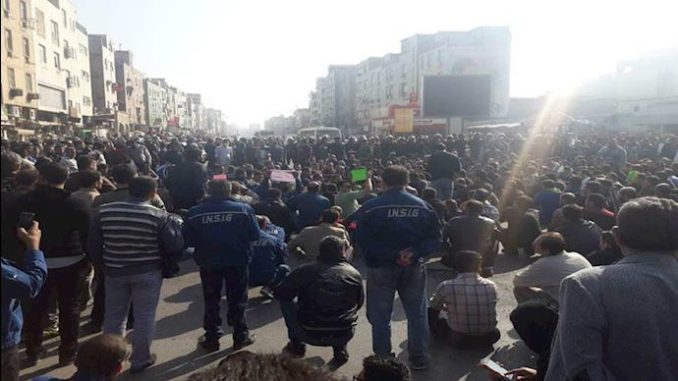 The workers of Iran's National Steel Industrial Group (INSIG) in Ahvaz have been on strike for over a month protesting against unpaid wages and poor working conditions. Monday marked the 38th consecutive day of their strike and protests, which is happening in parallel to other similar protests and strike across the country.
On Monday, during a nightly raid, the Iranian regime's security forces attacked several houses the National Steel Group workers and without warrant arrested at least 15 workers.
In this regard, a statement by the Free Workers Union of Iran said: "According to reports sent by the workers of National Steel Industrial Group, last night, security agents staged a widespread attack against the houses of workers of this industrial complex. The raid continued until 2:00 am in the morning and at least 11 of the workers were arrested."
However, complementary reports indicate that at least 15 workers have been arrested so far during last nights raid. Many other workers who weren't at their homes at the time of the nightly raid could not be apprehended by the repressive forces. Many of the workers had to spend the night in the streets to avoid arrest.
 ⇒ Watch a Short Video of Today's Protest By Ahvaz Steel Workers Here ⇐
The names of the detained workers are as follows: Maysam Ali Qanavati; Issa Mar'ei; Amin Alvani; Morteza Akbarian; Tareq Khalafi; Massoud Afri; Jaffar Sobhani; Mostafa Abyat; Qarib Howeyzavi; Hossein Davoudi; Karim Siahi; Meysam Aal-Mehdi; Hamed Baseri; Hafez Kan'ani; Hamed Judaki.
Meanwhile, special police guards have been stationed in front of Ahvaz Governorate this morning to prevent any demonstrations.
Ahwazi angry workers, ignoring the suppressive regime's actions, marched on Naderi street while furiously chanting slogans, "We support the imprisoned worker," and "Imprisoned workers must be freed" and demanding the release our their colleagues and an end to the arrest of the oppressed workers.
Tehran and Suburbs Bus Company Syndicate also strongly condemned nightly invasion of Ahvaz Steel Workers and called for the release of detained workers.