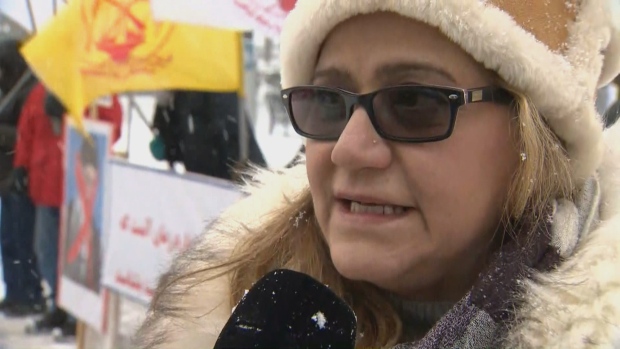 Heated demonstrations in Iran are now entering their 3rd straight day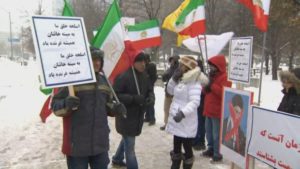 Iranian-Canadians took to Mel Lastman Square on Saturday to show support for widespread protests in Iran against the country's government and weak economy. Heated demonstrations in that country are now entering their third straight day.
The demonstration was organized by the International Coalition of Women Against Fundamentalism (ICWAF) who issued a release urging the Canadian government to publicly support the Iranian people as well as their demands for rights and regime change.
"I am pleading. I'm asking everyone come and help us. Let's be a voice of voiceless people in Iran," Sara Fallah, director of ICWAF, said. "We want unity, we want peace and we want justice for everyone in the world, including our fellow Canadians."
The protests in Iran have already gained international attention from U.S President Donald Trump and the American State Department, who have issued statements on the demonstrations.
It's support Fallah has recognized.
"In the U.S. we have a lot of support," Fallah said of the response. "But we want this to be very wide in order to get people successful in Iran."
Iranian protests began Thursday
In Iran, thousands already have taken to the streets, beginning at first on Thursday in Mashhad, the country's second-largest city and a holy site for Shiite pilgrims.
Saturday's protests in the Iranian capital Tehran, as well as Trump's tweets about the protests, raised the stakes. It also appears to have forced the state television network to break its silence, acknowledging it hadn't reported on the demonstrations on orders from security officials.
The protests stem from social media posts and a surge in prices of basic food supplies such as eggs and poultry. Officials and state media made a point Saturday of saying Iranians have the right to protest and have their voices heard on social issues.
Social media videos purport to show clashes between protesters and police in several areas. At least 50 protesters have been arrested since Thursday, authorities said.
The demonstrations appear to be the largest to strike the Islamic Republic since the protests that followed the country's disputed 2009 presidential election.
Global Affairs Canada has weighed in on the street demonstrations. It said in a statement Saturday that Ottawa "is encouraged by the Iranian people who are exercising their basic right to protest peacefully," and called for Iran's authorities "to uphold and respect democratic and human rights."
With the tense situation in Iran, Fallah says Toronto's protest is meant to show solidarity with the Iranian people, and she hopes more Canadian officials will speak up.
"I am Canadian-Iranian, and I'm very proud of that," she said. "I want us to be their voice and back them up. They need that."