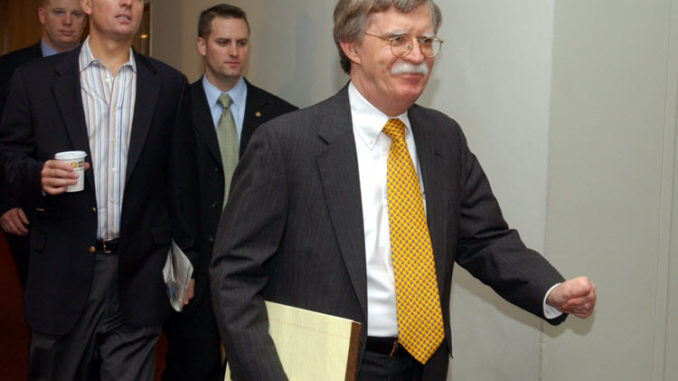 The appointment of John Bolton as the new U.S. national security adviser has faced harsh criticism from some who speculated that Bolton would put Trump on a path to war with Iran. Some of this reaction has been because of Bolton's support of the Iranian opposition. He has participated in events and conferences over the past few years where he has supported the Iranian Resistance in their quest for regime change in Iran.
For those who point out that Bolton is trying to bring the US into a war with Iran, it is important to realize that Iran is already at war with the rest. Iran is sparking and fueling conflict across the whole Middle East region and it is heavily involved in the wars in Syria, Iraq and Yemen, compromising the world's peace and the U.S. and western security interests in the Middle East and elsewhere.
So it makes sense for the US to send a strong message to Iran about their nuclear pursuits and other malign activities to actually reduce the likelihood of another American war in the Middle East. That is what Bolton's appointment does.
When President Obama was in office, his policies of appeasement had no positive impact on the Iran's behaviour and belligerent activities. In fact, it had the opposite effect. Iran became emboldened, safe in the knowledge that the Obama administration would not act or show any reaction towards any of its malign activities. It is no wonder that the years of Obama's time in office were described as the "golden years" for Iran.
When President Trump took office, his  harsh rhetoric and his vows to get tough on Iran were taken seriously. Iran was nervous about Trump's unpredictability and it started to ease up on its provocations. This was a sure sign that Trump's tough approach compared to Obama's "turn a blind eye" approach is much more effective.
Therefore, strategic assertiveness is the way forward for the US. Any elements of weakness or incoherence or disagreement within the Trump administration can be exploited by Iran regime. Appointing Bolton – someone who wants to take a tough approach on Iran – was a move that is strengthening the administration's approach. This, in turn, will ensure that there is less of a chance of another conflict in the region, not more likely, like many are suggesting.
Iran is meddling in the affairs of other nations all across the Middle East and it is creating chaos to keep wars going. It is taking advantage of the conflicts to pursue its own goals of regional dominance. Its plans got more ambitious during Obama's time in office and the Trump administration is trying to put a stop to it all.
It is time for Iran's impunity to end. It must face up to the consequences of its actions. Appeasement makes the situation worse. Assertiveness, however, has already shown some results (for example, there have been less provocations made by Iran to the US Navy). Clearly this is the way to move forward.
Mullahs' days are numbered. The people of Iran made this clear during their recent protests. The desperate regime will take even more extreme measures if it senses any weakness from the international community.